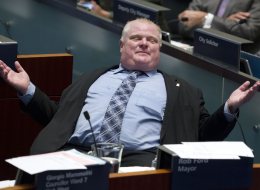 In the end, this is a crisis that only Rob Ford can defuse. Everyone else is a mere spectator. But that's not to say spectators don't have responsibilities.
It has been a good few weeks for eggshells. Not a one has been broken by the federal Conservatives when it comes to the Toronto Mayor Rob Ford fiasco.
So gentle have they been on the foul mouthed, crack smoking, drunk-driving mayor, that you might think they simply missed the entire story.
After all, how could a government that bursts a blood vessel when anyone discusses marijuana laws remain virtually silent on a senior politician's admission of smoking crack?