Each day, an average of 294 American veterans of World War II die. This Veterans Day provides an opportunity to honor those rapidly dwindling survivors, most of them now in their 90s and 100s. Of the 16 million American soldiers who fought, only 389,292 were alive this year, according to the U.S. Department of Veterans Affairs.
"Every day, memories of World War II, its sights and sounds, terrors and triumphs, disappear," says the National World War II Museum in New Orleans, which seeks to explain the Allied victory and the price of freedom.
The day now known as Veterans Day began in 1919, a year after the World War I Armistice with Germany, which occurred on the 11th hour of the 11th day of the 11th month in 1918.
In proclaiming the holiday, U.S. President Woodrow Wilson said he hoped the day "will be filled with solemn pride in the heroism of those who died in the country's service, and with gratitude for the victory." As we remember those who served, take a moment of silence to honor their sacrifice.
ANOTHER MEMORABLE ANNIVERSARY IN NOVEMBER
Thirty years ago, on November 9, 1989, the fall of the Berlin Wall came amid revolution, five days after 500,000 people gathered in protest. A spokesman for communist East Germany announced that its citizens could finally cross the border whenever they wanted, and the demolition of the wall commenced with hammers and picks.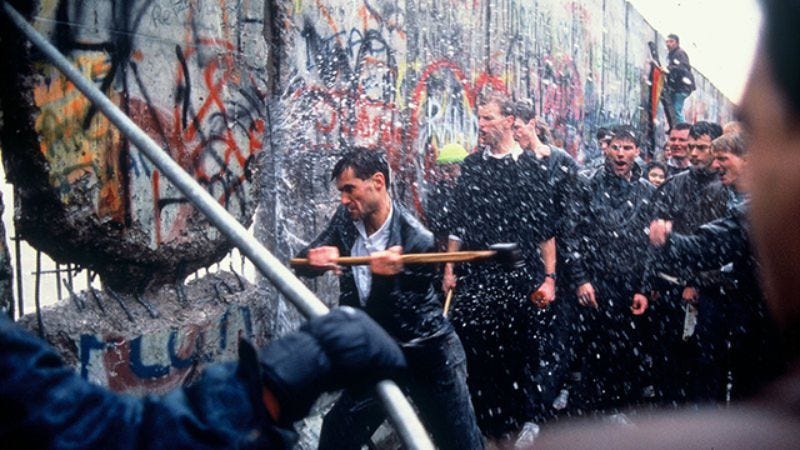 After World War II, a defeated Germany had been divided into four "allied occupation zones," occupied by the Soviet Union, Britain, the United States and France. As it created an Iron Curtain between communist East Germany and West Germany, Berliners could navigate freely across the divided city.
That ended in 1961. The Berlin Wall began overnight: Barbed wire, cinder blocks and then concrete dividing east and west. East Germany built the wall to stem the tide of East Germans—2.5 million of them—who had fled west. About 5,000 East Germans were captured trying to get over the wall; 190 were killed.
All that ended in November 1989. Mr Gorbachev took down the wall.