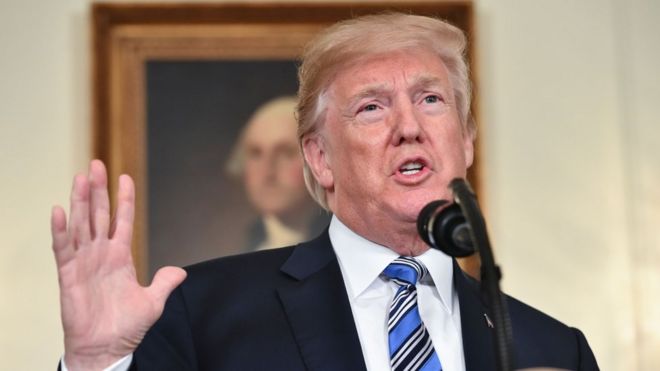 Mr Trump insists he is not struggling to find lawyers to represent him
US President Donald Trump will no longer hire two lawyers whose appointments were announced last week, with the shake-up of his legal team appearing to hit a stumbling block.
Joe diGenova's appointment to the team handling the special counsel investigation into Russian election meddling was announced on Monday. Victoria Toensing, who is married to Mr diGenova, was also expected to join. But Mr Trump's personal lawyer said "conflicts" had prevented their hiring.
"The president is disappointed that conflicts prevent Joe diGenova and Victoria Toensing from joining the president's special counsel legal team," Jay Sekulow said in a statement.
"Those conflicts do not prevent them from assisting the president in other legal matters," he added. "The president looks forward to working with them."
The details of the conflicts are unclear, but Mr Sekulow said on Friday that the hiring of Mr diGenova was dependent on a review of potential conflicts of interest. The couple's namesake law firm - diGenova & Toensing - is reported to be representing other clients involved in the special counsel's Russia investigation.
In a statement, Ms Toensing said: "We thank the president for his confidence in us and we look forward to working with him on other matters."
Mr diGenova, a combative former US attorney, has appeared on Fox News where he has frequently defended the president. Earlier on Sunday, Mr Trump insisted in a series of tweets that he was having no difficulty finding lawyers to represent him.
"Many lawyers and top law firms want to represent me in the Russia case," he said.
The news that Mr diGenova and Ms Toensing will not be joining the president's legal team follows the resignation of its lead lawyer, John Dowd. Mr Dowd, 77, reportedly concluded that Mr Trump was ignoring his advice. Other reports suggested the president had lost confidence in him.
Under his leadership, Mr Trump's team of lawyers advised the president to co-operate with the special counsel investigation. It is not yet clear who will replace Mr Dowd.
WANT TO KNOW WHAT THIS RUSSIA THING IS ALL ABOUT ???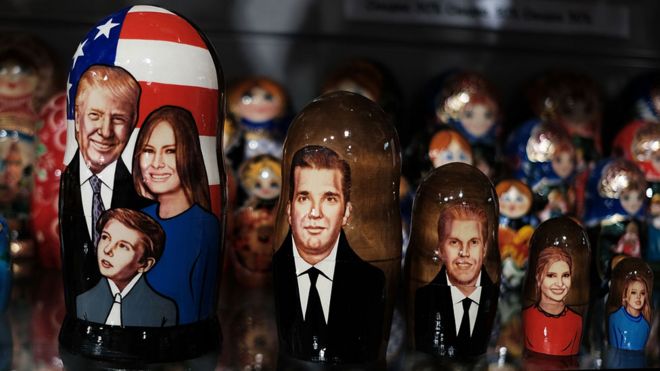 For people outside the USA or people who have lost the thread of the events in all the chaos,
this is the story that has dominated Donald Trump's presidency, but it's complicated.

In summary
US intelligence agencies believe Russia tried to sway the election in favour of Mr Trump and a special counsel is looking into whether anyone from his campaign colluded in the effort.
Any evidence?
Senior members of Mr Trump's team met Russian officials. Several of these meetings were not
initially disclosed.
What meetings?
Ex-national security adviser Michael Flynn lied to the FBI about meeting the Russian ambassador to the US before Mr Trump took office. Mr Flynn has entered a plea deal, prompting speculation that he has incriminating evidence.
The president's son, Donald Jr, met a Russian lawyer during the campaign who had "dirt" on Hillary Clinton, and adviser George Papadopoulos has admitted lying to the FBI about meetings with alleged go-betweens for Russia.
Who else is involved?
The president's son-in-law Jared Kushner is also under scrutiny, and former campaign chairman Paul Manafort has been charged by investigators with money laundering, unrelated to the election.
And the president?
Since he fired the man leading one of the investigations, ex-FBI Director James Comey, there are questions whether the president has obstructed justice. Legal experts differ on this. The meetings described by Mr Comey were however clearly inappropriate. This is simply not how Americans want a president to conduct himself.
Comey put his credibility on the line when he testified and he did it in a very public way. Now it's a credibility contest between him and the president, and I think it's safe to say Comey would win that contest.
That could prove crucial if legal action were ever taken over this affair. Were the president to face impeachment or criminal proceedings, the former FBI director would, without doubt, be a central witness, and his credibility against Mr Trump's would be key to the case.
Both those scenarios remain unlikely however, at least for the meantime. It is effectively impossible to bring criminal charges against a sitting president - the case would have to be brought by the executive branch, of which Mr Trump is the boss.
As for impeachment, there is political resonance to obstruction of justice charges - it factored in the impeachment of Bill Clinton and the resignation of Richard Nixon - but it is still highly unlikely. The Republican party controls both houses of congress, and the special counsel investigation into the Russia affair may not have the clout to bring charges and make them stick.