The NRA set up a booth at the conference to sign up new members and recruit campaign field workers for the November mid-term elections in which Democrats are trying to take over control of Congress from Trump's fellow Republicans.
"I'm strongly for concealed carry, strongly for arming the teachers like Trump said," said Nick Fuentes, 19, from Chicago, as he stood outside the booth. "Teachers who are adept at firearms should be armed."
LaPierre attacked Democrats by name including Senators Kamala Harris, Elizabeth Warren and Christopher Murphy and also took a swipe at the FBI for failing to follow up on a tip about the alleged shooter in the Parkland massacre. The FBI has said it failed to act on the tip.
Florida Governor Rick Scott also criticized the FBI for failing so far to provide details about why it did not respond to the tip. "Family members and loved ones of the victims deserve answers today," Scott said in a statement.
Trump reiterated his idea, first raised on Wednesday during an emotional discussion with people affected by the shooting, to arm teachers, a notion raised by some politicians in the past but dismissed by critics as fraught with danger.
At an hourlong meeting on school safety with 10 state and local officials, Trump said armed teachers with an aptitude for guns would deter would-be shooters.
"A gun-free zone to a killer, or somebody that wants to be a killer, that's like going in for the ice cream," Trump said. "They're not going to walk into a school if 20 per cent of the teachers have guns."
Trump repeated his support for tightening background checks for gun buyers, with an emphasis on mental health, and lifting the age limit to buy some kinds of guns. He also said he would push for an end to the sale of bump stocks, which allow rifles to shoot hundreds of rounds a minute.
The White House said Trump does not want to ban sales of an entire class of firearms despite mounting pressure to put assault weapons such as the one used in the Florida shooting out of civilian reach.
While gun laws vary widely by state, most federal gun control measures would require Congress to act. Douglas, Nikolas Cruz, has been charged with carrying out the Parkland shooting. Authorities say he was armed with a semiautomatic AR-15 assault-style rifle that he had purchased legally last year.
Definitely ... arm teachers with hand guns or maybe AR-15 assault rifles or maybe a desk-top M16. A few grenades would also come in handy . They could carry them on a belt and be hands free. Tear gas would give the students some camouflage while they ducked under their desks. It makes as much sense as anything else Mr Trump has come up with. Why don't you ask the teachers what they think???? They may want to teach kids how to use a semi-automatic to blow someone's head off. It could come in handy when they grow up and get dissatisfied with their jobs at the Post Office.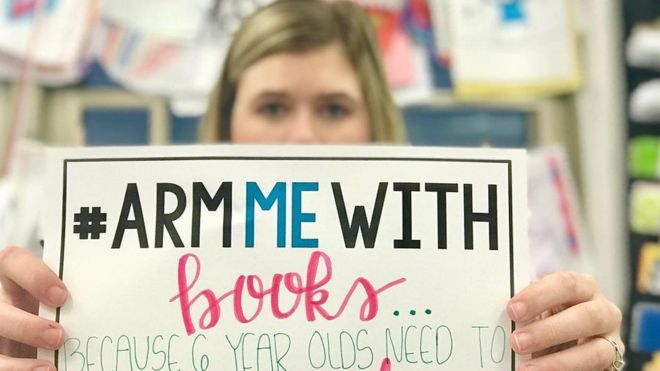 Following the devastating school shooting last week in Parkland, Florida, students from Marjory Stoneman Douglas High School have captured media attention as they speak out against gun violence and in support of gun control measures. Well, now teachers are speaking out too, sharing photos on Instagram and other social media platforms with the hashtag #armmewith and their requests for what they need in their classrooms in order to prevent further tragedy.
The #armmewith movement was started by two teacher-influencers on Instagram, Olivia Bertels (
@missbertels
) and Brittany Wheaton (
@thesuperheroteacher)
. In one of her Instagram stories, Bertels explains that she had a friend associated with the MSD shooting and says, "I don't find supporting gun control … to be a political statement … we need gun control in this country."
The #armmewith movement is a direct response to the proposed solution that teachers carry guns in order to prevent further mass shootings, an idea which has resurfaced in the aftermath of the Parkland shooting.