AS REPORTED BY THE BBC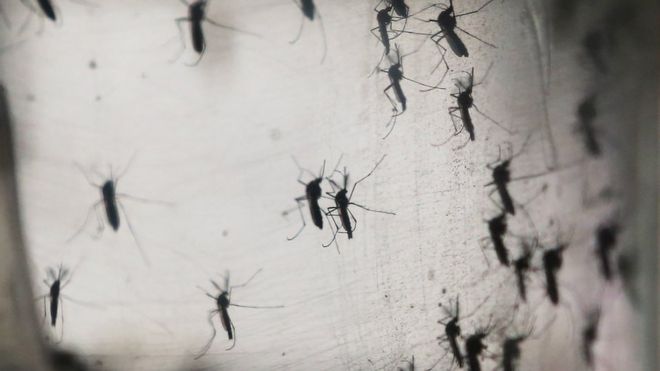 Zika - a mosquito-borne virus - has been linked to babies being born with underdeveloped brains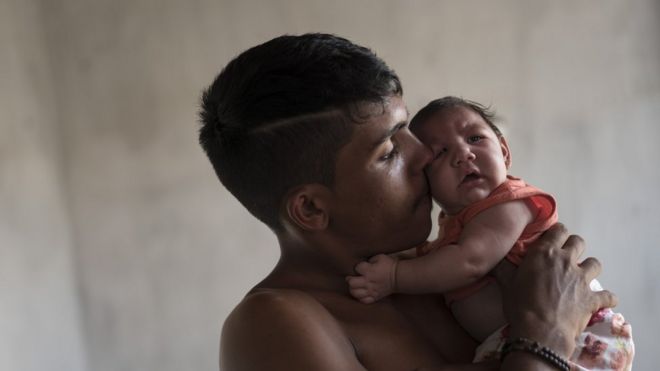 Dejailson Arruda and his daughter Luiza, who was born with microcephaly
Spain has confirmed that a pregnant woman has been diagnosed with the Zika virus - the first such case in Europe.
The health ministry said the woman had recently returned from Colombia, where it is believed she was infected.
Zika, which is spreading through the Americas, has been linked to babies being born with underdeveloped brains.
The World Health Organization (WHO) has declared the microcephaly condition, linked to the mosquito-borne virus, a global public health emergency.
The WHO on Thursday also advised countries not to accept blood donations from people who had travelled to Zika-affected regions, the AFP news agency reported.
The link between Zika infection and microcephaly has not been confirmed and the risks at different stages of pregnancy are unknown."
'No spreading risk'
In a statement the health ministry said the pregnant woman was diagnosed as having Zika in the north-eastern Catalonia region.
It did not release the woman's name, saying she was one of seven confirmed cases in Spain.
It said two more patients were in Catalonia, two in Castile and Leon, one in Murcia and one in the capital Madrid.
"All are in good health," the ministry added.
It also stressed that "the diagnosed cases of Zika virus in Spain... don't risk spreading the virus in our country as they are imported cases".
Brazil says a national mobilization day will be held on Saturday, during which thousands of soldiers and state employees will work to eradicate mosquitoes in homes and offices.
The outbreak is being discussed by health ministers from 14 South American countries who vow to take action to eliminate it
Colombian President Juan Manuel Santos says he expects a rise in Zika cases
The WHO expresses fears over the reported sexual transmission of the Zika virus in Texas
Florida Governor Rick Scott declares a public health emergency in four counties with travel-related cases of the virus, while ordering state officials to increase mosquito control efforts in heavily populated locales including Miami and Tampa


What are the symptoms?
Deaths are rare and only one-in-five people infected is thought to develop symptoms.
These include:
mild fever
conjunctivitis (red, sore eyes)
headache
joint pain
a rash
A rare nervous system disorder, Guillain-Barre syndrome, that can cause temporary paralysis has been linked to the infection.
There is no vaccine or drug treatment so patients are advised to rest and drink plenty of fluids.
But the biggest concern is the impact it could have on babies developing in the womb and the surge in microcephaly.
What is microcephaly?
It is when a baby is born with an abnormally small head, and their brain has not developed properly.
The severity varies, but it can be deadly if the brain is so underdeveloped that it cannot regulate the functions vital to life.
Children that do survive face intellectual disability and developmental delays.
It can also be caused by infections such as rubella, substance abuse during pregnancy or genetic abnormalities.