The hard-fought 2016 Republican presidential campaign hit a new level of intensity on Friday, capped by New Jersey Gov. Chris Christie endorsing Donald Trump amid an exchange of biting personal insults between Mr. Trump and rival Sen. Marco Rubio.
Mr. Trump's strong momentum ahead of Super Tuesday on March 1, when 11 states will award 595 delegates, prompted Mr. Rubio to suggest that half of the Republican Party would abandon the New York developer if he wins the nomination.
But Mr. Trump signaled that he is trying to fuse his anti-establishment coalition with the political mainstream by appearing with Mr. Christie, a former Republican rival and the Republican Governors Association's president.
For Mr. Trump, Mr. Christie's endorsement represents the first significant figure with ties to the political establishment to join his campaign. It also shifted attention from Thursday's debate, when Mr. Trump found his business record the subject of sustained attacks from both Texas Sen. Ted Cruz and Mr. Rubio.
Mr. Christie ended his own presidential campaign after his sixth-place finish in the New Hampshire primary. Since returning to New Jersey, Mr. Christie had been considering an endorsement privately, people familiar with the governor's thinking said. He had intended to wait to officially endorse until after Super Tuesday or the mid-March primaries, but changed his mind after Mr. Trump asked him to breakfast Thursday morning in New York City to talk over the matter. Mr. Trump asked for an earlier endorsement to help him shore up additional establishment support before Super Tuesday, including Southern governors with whom Mr. Christie had formed relationships.
The endorsement came after a day in which Mr. Rubio continued his newly aggressive tack against Mr. Trump. Asked in Oklahoma City if he would support Mr. Trump if he is the nominee, Mr. Rubio replied: "He's not going to be the nominee. The Republican Party will be split apart if he became the nominee."
Underlining the back and forth between the Trump and Rubio camps were two acts of political insult theater. Mr. Rubio suggested Mr. Trump urinated on himself during Thursday's Houston debate and accused him of being a "con man" who employs illegal immigrants to write his tweets.
Mr. Trump responded by calling Mr. Rubio a "nervous Nellie," a "lightweight" and a "choker." On stage with Mr. Trump in Fort Worth, Texas, Mr. Christie chimed in, calling Mr. Rubio "desperate."
And in what may encapsulate the 2016 Republican primary better than any other moment, both Messrs. Rubio and Trump mocked the way the other applies makeup.
Mr. Rubio's late offensive against Mr. Trump serves as his likely last chance to stop the billionaire from running away with the party's nomination with a series of victories on Tuesday.
The sharp exchanges also framed Mr. Rubio as the front-runner's chief antagonist and alternative, a position for which he has been battling Mr. Cruz in recent weeks.
Still, it comes late in the process, well after Mr. Trump has established himself as the undisputed GOP leader, and having gone nine full months without facing sustained attacks from any of his viable opponents in the field.
For the first time in the campaign, Mr. Rubio offered an extended attack on Mr. Trump directly and by name from his campaign stage. In a merger of social and traditional media, Mr. Rubio read misspellings from Mr. Trump's Twitter feed in a rally broadcast live on cable television.
"He called me Mr. Meltdown," Mr. Rubio said. "Let me tell you something. Last night, during one of the breaks, two of the breaks, he went backstage. He was having a meltdown. First, he had this little makeup thing, applying like makeup around his mustache, because he had one of those sweat mustaches. Then he asked for a full-length mirror. I don't know why, because the podium goes up to here, but he wanted a full-length mirror. Maybe to make sure his pants weren't wet, I don't know."
Mr. Christie, who eviscerated Mr. Rubio during a New Hampshire debate earlier this month, said he backed Mr. Trump because he would run an unconventional campaign that would surprise Hillary Clinton, the front-runner for the Democratic nomination. "The best person to beat Hillary Clinton in November on the stage last night is undoubtedly Donald Trump," Mr. Christie said. Mr. Christie is expected to campaign for Mr. Trump going forward.
Maine's Republican Gov. Paul LePage also endorsed Mr. Trump on Friday while speaking on "The Howie Carr Show," a conservative radio talk show based in Boston.
After announcing Mr. Christie's endorsement, Mr. Trump slammed Mr. Rubio as unprepared and incapable of being tough enough to be president.
"I watched a part of his little act, and he's a desperate guy," Mr. Trump said at a press conference in Fort Worth, Texas. "He is not presidential material—that I can tell you. Doesn't have the demeanor. He is a nervous Nellie. I watch him backstage. The guy is a total mess."
Establishment GOP figures, who for months have privately pleaded for a candidate to attack Mr. Trump, cheered Mr. Rubio's offensive on Friday, even as they bemoaned the increasingly nasty politics that are ensnaring the party.
"I am excited to see Marco Rubio try to expose the fraud that Donald Trump is," said Jack Oliver, who served as national finance co-chairman for the Jeb Bush campaign. "The problem is that this is an American election with global consequence, and every time I turn on the television, I feel like I'm watching a reality TV show."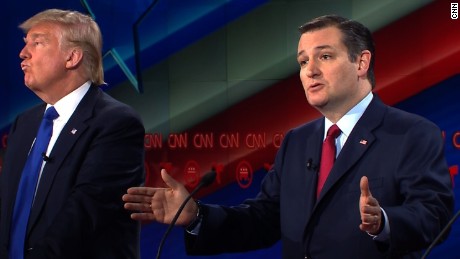 Meanwhile, Mr. Cruz found himself largely blacked out from Friday's nonstop cable news coverage that carried the Rubio and Trump events and press conferences live.
Campaigning in Nashville, Tenn., Mr. Cruz warned that if Mr. Trump, who has won the last three contests in New Hampshire, South Carolina and Nevada, does well in the March 1 states, there will be nothing between him and the GOP nomination.
"If he continues with that momentum and powers through and wins everywhere on Super Tuesday, he could easily be unstoppable," Mr. Cruz said. "And I think that would be a grave mistake both for the Republican Party and for the country."
Mr. Cruz, who has placed third in three states in a row after winning Iowa's caucuses, insisted that he is still relevant in a Republican race increasingly focused on Mr. Trump and Mr. Rubio. However it seems his chances are slim to nothing. The focus is on the last two standing.
Trump is on a roll...the people have spoken. They may regret it.