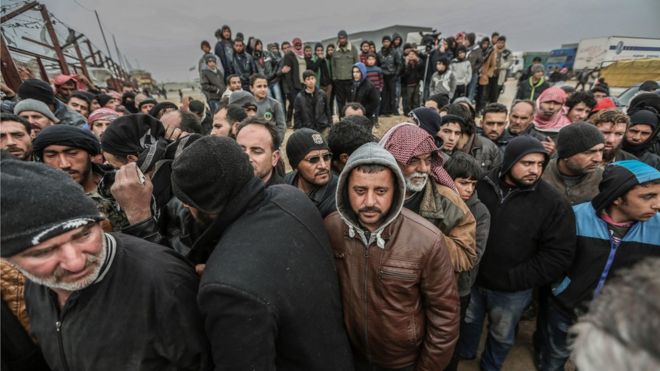 Turkey insists there is no need to let the Syrians in
Officials in the EU have urged Turkey to let in 35 thousand Syrian refugees trapped on its border at Kilis after fleeing fighting at Aleppo. EU foreign policy chief Federica Mogherini said there was a moral, if not legal, duty to provide protection.
Turkey says the refugees are receiving food and shelter inside Syria and there is no need to allow them to cross.
Approximately 35,000 Syrians have fled a Syrian government offensive on rebel-held positions near Aleppo in the last two days. Ms Mogherini said the EU was providing funding to Turkey to make sure it had the "means, the instruments, the resources to protect and to host people that are seeking asylum".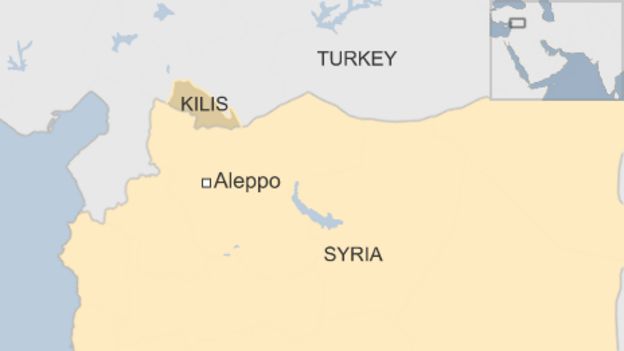 In November, the EU clinched a deal with Turkey, offering it $3.3bn to care for Syrian refugees on Turkish soil. Ms Mogherini's call was echoed by EU Enlargement Commissioner Johannes Hahn and Dutch Foreign Minister Bert Koenders, whose country currently holds the EU presidency.
"I look at these images of people standing at the Turkish border and I just wanted to underline the message that people who are in humanitarian need should be allowed in," said Mr Koenders.
However Kilis governor Suleyman Tapsiz said the move was not necessary.
"Our doors are not closed but at the moment there is no need to host such people inside our borders," he said. Turkey already hosts the largest number of Syrian refugees - 2.5 million.
In the past few days, the Syrian army - backed by Russian air strikes - has made a series of gains around Aleppo, Syria's largest city.
On Thursday, 60 donor countries meeting in London pledged billions of dollars to ease the plight of Syrian refugees. About 4.6 million people have fled Syria since the civil war began in 2011. Another 13.5 million are said to be in need of humanitarian assistance inside the country. How can we not help them ? How can we not offer them sanctuary just because a couple of terrorists got through, masquerading as refugees? Just screen them carefully like Canada does. These people are helpless victims. Whatever happened to compassion? We seem to have become a hardened and apathetic people.
I think the bottom line, now, is that everyone is scared of Russia and it's ruthless thug, Putin, who is aiding and abetting Assad by putting Russia's considerable military force behind his genocide. If America and Russia come to a Mexican stand-off over Syria, anything could happen.