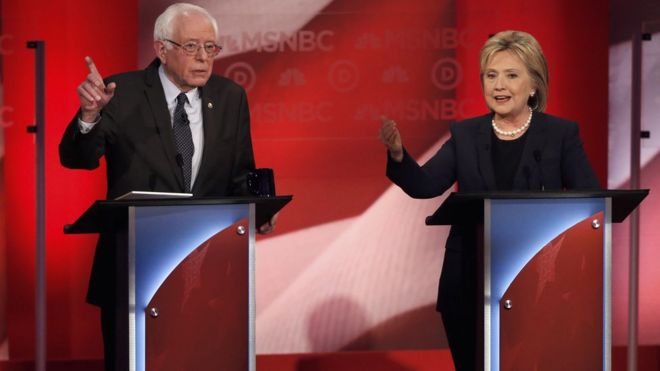 Hillary Clinton and Bernie Sanders have clashed over Wall Street and foreign policy, in the Democratic presidential candidates' first one-on-one debate. Mrs Clinton cast him as an idealist who will not get things done and Mr Sanders accused her of being too tied to the establishment to achieve real change.
The TV debate in New Hampshire was their first since the Democratic race was whittled down to two this week.
The former secretary of state said Bernie Sanders' proposals such as universal healthcare were too costly and unachievable. And she went after her rival aggressively over his attempts to portray her as being in the pocket of Wall Street because of the campaign donations and the fees she had received for after-dinner speeches.
"It's time to end the very artful smear that you and your campaign have been carrying out," she said.
Mr Sanders, a senator of Vermont, used a favourite attack line against her, that she backed the Iraq War, but she questioned his foreign policy expertise.
The debate comes five days before the second state-by-state contest in the battle for the presidential nominee, in New Hampshire on Tuesday.
Other highlights include:
She represents the establishment, I represent ordinary Americans, said Mr Sanders
By standing up to big money interests and campaign contributors, we transform America, he said
Mrs Clinton was asked to release the transcripts of all her paid speeches - she said she would look at it
He demanded the break-up of the big banks but she said her regulatory policies would be tougher on Wall Street
Asked what she stood for, she named clean energy, the affordable care act and getting paid family leave
He said he was stronger because "Democrats win when there is large turnout" and he could enthuse young people
Despite the tensions over policies, the debate ended on a warm note, when Mrs Clinton said the first person she would call would be Mr Sanders, if she won the nomination.