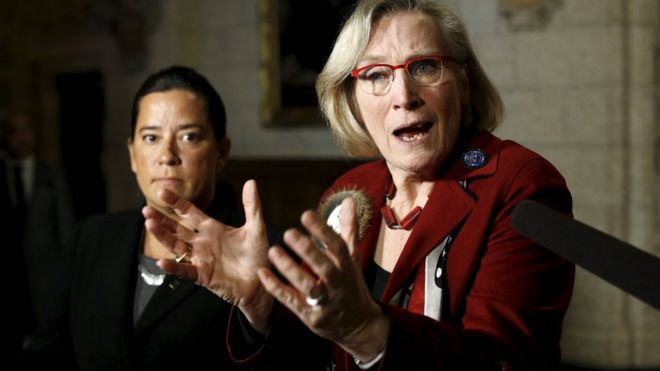 Ms Bennett said the true figure of missing or murdered women is higher than previously thought
The Canadian government has confirmed that the number of missing or murdered indigenous women in the country is higher than the previously reported. Ministers recently spoke to survivors across Canada to begin a government inquiry into the matter. Prime Minister Justin Trudeau made a key campaign pledge to address this.
Canada's minister for the status of women suggested on Tuesday the accurate number of missing and murdered women could be as high as 4,000. Patty Hajdu said the government did not have an accurate figure but she indicated there was research from the Native Women's Association of Canada (NWAC) that said there were about 4,000.
The often-cited 1,200 figure came from a 2014 Royal Canadian Mounted Police report on the missing women, related to the period between 1980 and 2012. And even that was grossly underestimated.
The discussions revealed, from participants, friends, relatives and indigenous womens' councils, that the true figures may even be higher than 4,000, according to Indigenous Affairs Minister Carolyn Bennett.
Trudeau addressed the Assembly of First Nations in Quebec

In December 2015, Canadian authorities charged a man in the death of one indigenous girl whose murder caused a national outcry. Raymond Cormier, 53, was charged with second-degree murder in the death of Tina Fontaine, 15, who was found dead in 2014 in Saskatchewan's Red River.
An investigation in April revealed that dozens of aboriginal women disappear each year in that area, with many later found dead in the Red River. Mr Trudeau has promised an inquiry into missing and murdered indigenous women in an appeal to First Nations chiefs. The public inquiry will be a "top priority" of his newly-elected Liberal government, he said.
Mr Trudeau has also promised increased funding for aid and other programs and a review of laws on indigenous peoples. Trudeau was appalled at the living conditions of the indigenous people in Northern Saskatchewan. He was shaken when he heard the true numbers of dead or missing women, who have never been accounted for.
The previous government has much to answer for. They ignored pleas for help from First Nations chiefs to investigate the missing women, and they promised but didn't deliver enough humanitarian aid for health and clean water and money for improvements.

Minister of Justice Jody-Wilson Raybould, Minister of Status of Women Patricia Hajdu and Ms Bennett conducted interviews with nearly 2,000 people to start forming the government inquiry - survivors, families and loved ones of survivors.
The ministers aim for the inquiry to, "examine the causes of violence against Indigenous women and girls and make recommendations for concrete actions to prevent future violence", said Ms Bennett.
"Regardless of the number, the level of Indigenous women and girls who have gone missing or were murdered is an ongoing national tragedy that our government is committed to addressing immediately."
Easy to say. We just hope we get to see genuine aid and improvements being provided.
The responsibility also lays at the door of the provincial governments who have treated these people like second class citizens or worse. The federal government can't always ride herd on every situation. If the provincial governments can't deal or are overwhelmed by a problem, or are outraged by the way cases are handled, or not handled, by the Mounties, they should vigorously protest to the federal government. Up until now, the sound of silence has been deafening.
Justin is not a miracle worker, nor should we expect him to be, but here is the crucible which will test just what he is made of.
Sorry to end the post on a preposition.
THE DEATH OF
TINA FONTAINE LEADS TO ENLIGHTENMENT
It was one of those never-ending summer days that John O'Donovan relished.
It was August 2014, and the detective from Winnipeg's homicide unit had just finished Sunday lunch with his family and was preparing to walk his dogs, retired greyhounds.
But then the phone buzzed with a familiar number and O'Donovan knew his peace and quiet was about to end.
It was his duty inspector with news that a body had been found weighted down in a bag in the Red River, the river that runs through Winnipeg and is the lifeblood of the city.
Within an hour, O'Donovan was at his desk in the city speaking to officers and handing out assignments.
The body was in such an advanced state of decomposition it took four hours to determine it was that of a young woman. It was another few hours before detectives could settle on a tentative identification.
"We didn't know who she was or how old she was, or how long she'd been in the water," says O'Donovan. The river did a lot of damage."
A tattoo of angel wings on the back of the young girl pointed officers to a runaway, a 15-year-old school girl called Tina Fontaine.
Within days Tina's case was making headlines throughout Canada not just for the horrific nature of her death, but for what she had come to represent. She brought national attention to the terrible situation we have been discussing.
Tina Fontaine was from Canada's Aboriginal population - made up of First Nation tribes, Inuit from the far north and Metis, the descendants of French settlers and native Canadians.
Her murder was the latest in a seemingly never-ending stream of violent attacks against Aboriginal women and girls in Canada. With Aboriginal peoples making up less than 5% of Canada's population of 35 million, the numbers are astonishingly high.
"Winnipeg is a working city, it's always been one of those frontier towns, it's always been a tough town," says O'Donovan who moved to the city 30 years ago from the west coast of Ireland.
But, for reasons he could not reveal at that time, without compromising the investigation, Tina Fontaine's death horrified this hardy detective. He said only that he had "feelings of outrage that a 15-year-old child has been killed".
Months into the investigation, his wife pointed out to him that Tina was the only murder victim she had heard him refer to by her first name. The teenager was not the first Aboriginal schoolgirl to have been murdered in Winnipeg, but the collective outrage that followed her killing marked a watershed for a city that had often shut its eyes to violence against Aboriginal women, not only in Winnipeg but throughout Manitoba and Saskatchewan.
Fortunately Tina's case and many others were under investigation by Project Devote, a special task force set up in Winnipeg four years ago to investigate unsolved cases in Manitoba where the victim was deemed to have been "vulnerable".
A tour of the project room, jointly staffed by local officers and the national Royal Canadian Mounted Police, reveals pictures of all the 29 cases currently under investigation along with maps annotated with dots showing the last place each victim was seen, and, in some cases, where their body was found.
So far, only two cases have been brought to court. Constable Jason Michalyshen says the challenges the team faces are considerable.
"Often with missing persons there's no scene for us to physically analyze or gather evidence," he says.
"We understand this is devastating for family members, but it's equally frustrating for investigators when we have limited information."
Despite its high profile and generous funding, Project Devote isn't doing enough.
One victim's family said, "You don't get any answers from them. You get a phone call every month to say, you know, 'We're working on the case... we have nothing further to tell you".
"We really feel like because we're indigenous people in Canada that we're not taken seriously," she says.
"They just think no-one is waiting for us, that nobody cares about us, that we're disposable."
But Tina Fontaine did have someone waiting for her. An hour's drive north up highway 59, in a cosy one-storey house just outside Sagkeeng Aboriginal Reserve, Tina's great aunt, Thelma Favel, never stopped hoping she would come home.
The reserve, which has a population of nearly 3,500, is like hundreds of others across Canada, separated from mainstream society and largely self-governed. Thelma raised Tina and her younger sister here. Years earlier, she had looked after Tina's father, her nephew, when her sister couldn't cope. Often drugs and alcohol consume indigenous parents and the children are left to fare for themselves. Tina and her sister were lucky. They were raised in a comfortable home and loved. Thelma had taken in many abandoned or neglected children over the years.
When Tina was fifteen she set out with $60.00 dollars in her pocket to visit her mother in Winnipeg and was never seen again. Her murder and it's investigation brought this dismaying, frightening situation to national attention, to people like myself who were ignorant of such horrifying events happening in our country.
So who is killing Aboriginal women and girls? A view widely held in Canada is that Aboriginal women face violence mainly from their own community.
The figures compiled by the Royal Canadian Mounted Police bear this out to an extent. Between 1980 and 2012, more than 60% of the recorded murders of Aboriginal women were committed by husbands, family members or close friends. But this leaves nearly 40% of women who were killed by strangers or casual acquaintances, a term that is often used to describe the sex worker-client relationship. Aboriginal women are 1.4 times more likely to be killed by someone they aren't close to.
The serial killer Shawn Lamb, convicted in Winnipeg in 2013 of murdering two Aboriginal women (and the prime suspect in another case) described them as "the perfect victim" because no-one seemed to care if they went missing. This may also be why a large number of Aboriginal women were among the victims of Canada's most infamous serial killer, the pig farmer Robert Pickton in British Columbia.
The remains or DNA of 33 women were found on his farm, when he was arrested in 2002. Some were hitchhikers, a number were prostitutes and drug addicts.
In Winnipeg , many of the murdered and missing Aboriginal women disappeared while working on the streets. For the past few years, the Winnipeg police force has run a counter-exploitation unit, patrolling at night to keep an eye on women at risk.
"There is nothing safe about women working the streets in the sex trade," says Sgt Cam Mackid who has worked this beat for the past 20 years.
The unit spends each night driving around the known red light districts in Winnipeg's North and West End districts, befriending women, checking up on them and offering them a lift home. If the girls are under age, they refer them to Child and Family Services.
"When we speak to girls we ask if there's any way to get them off the streets," says Mackid.
"We have no legal authority to take them off, but we do our best to make sure they're not taking risks."
As he puts it: "The streets are ground zero for predators."
Tina Fontaine's death appears to have been a moment of awakening for Canada.
Huge crowds joined rallies to protest against the murder, and thousands of women tweeted pictures of themselves holding signs asking the question "Am I Next?"
Since Tina was killed, three more Aboriginal women have been murdered in Winnipeg. Two of the deaths appear to be related to domestic arguments. In the third the perpetrator is unknown. And at the beginning of April 2015, another 15-year-old Aboriginal schoolgirl was assaulted and left in a critical condition.
As the snow falls gently outside her home in Sagkeeng, Thelma Favel sits surrounded by pictures of Tina. She's relieved that Canada seems to be waking up to the issue of violence against Aboriginal women, she only wishes this awareness had come sooner.
"It's going to be too late for Tina," she says.
"But at least it might help somebody else's child."