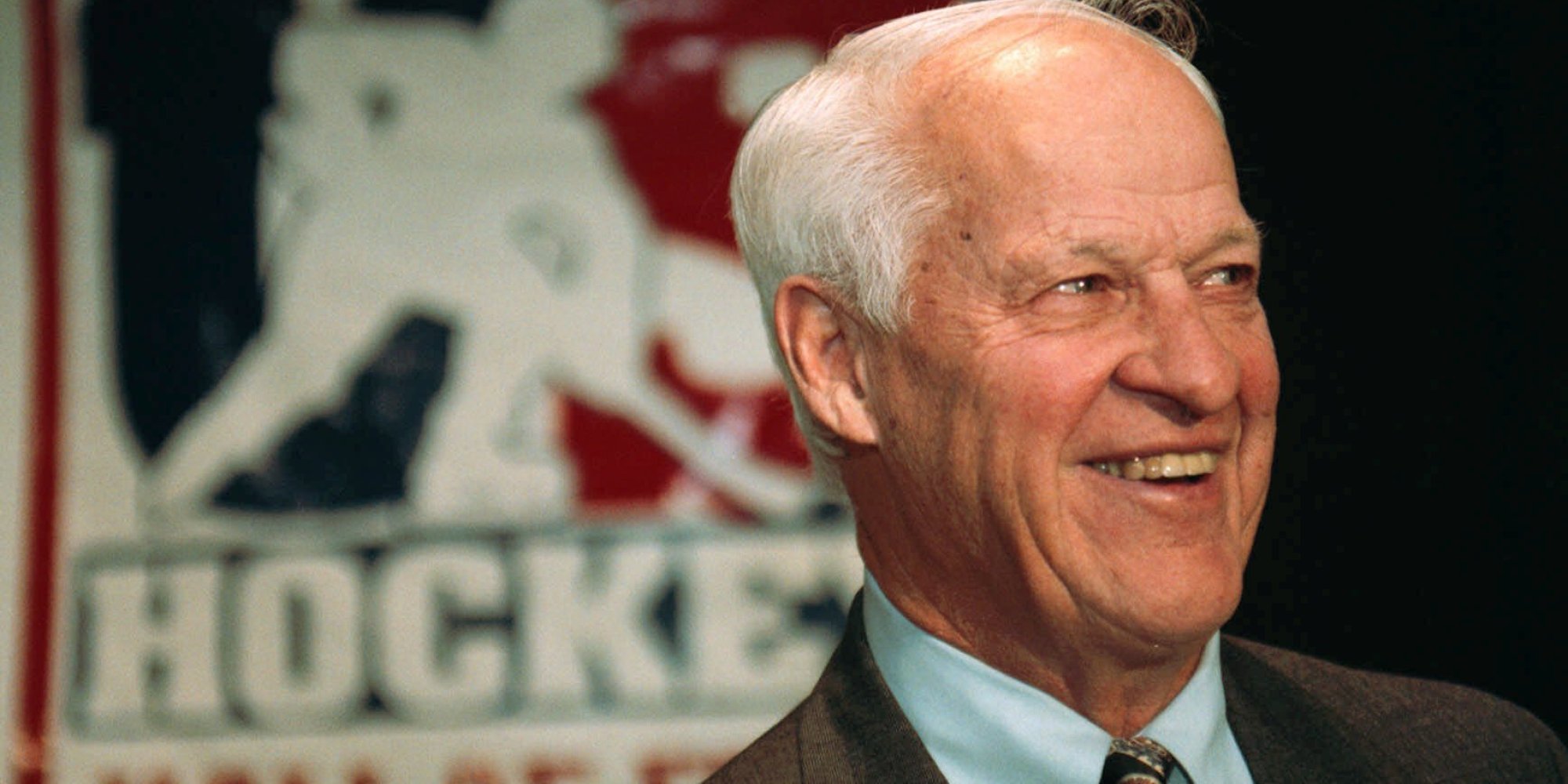 In a country where hockey is king, Gordie Howe ruled for decades. A Canadian icon, Howe grew up in the Great Depression playing hockey on prairie ponds — on hand-me-down or jerry-rigged skates. He went on to become Mr. Hockey, a tough and durable customer who could fight as well as he could score.
Howe, who died Friday at the age of 88, could do it all. His hockey career spanned five decades — six if you count a 1997 cameo in the International Hockey League — and six prime ministers.
Making his NHL debut for Detroit on Oct. 16, 1946, against the Toronto Maple Leafs, Howe played 32 professional hockey seasons, more than any other man. He also was the oldest player to score in the NHL and made hockey a family affair when he skated in games with his own sons Mark and Marty.
Howe was named an all-star 21 times, including 12 first-team selections on right wing, and helped the Detroit Red Wings hoist the Stanley Cup four times. He won the NHL scoring title and MVP award six times each. He was 52, and a grandfather, when he finally retired in 1980 — eight years after he was inducted into the Hockey Hall of Fame and nine years after being appointed into the Order of Canada.
"One of my goals was longevity," he once said. "I guess I've pretty much got the lock on that."
Howe was a fierce, physical competitor who could beat you with his elbows or a deciding goal. The Gordie Howe hat trick — when a player scores a goal, records an assist and gets in a fight in one game — is named after him.
In his 2014 autobiography "Mr. Hockey," Howe credited his father for showing him the way.
"One lesson he taught me that stuck with me throughout my hockey career was not to take dirt from anyone, because if you do they'll just keep giving it to you," he wrote.
Respect equals space, he soon learned.
Rangers tough guy Lou Fontinato ultimately paid the price for carving open Howe's face with his stick in early 1959. Howe bided his time before thumping him up in a one-sided fight that left his rival bloodied with a relocated nose. Howe dislocated a finger during the beating.
" I played a little rough," he said, " but just to get respect." Howe was clear on how he preferred to be remembered.
"Respect gave you more room, and if you get a little more room to move, then you're a better player."
Off the ice, Howe was soft-spoken, even shy.
"To me, Gordie is a contradiction," said Howard Baldwin, former owner of the WHA and NHL's Hartford Whalers. "I think anybody that followed his career knew that he was a fierce competitor and he was a tough hockey player. And yet he was a very gentle, kind soul off the ice.
"You just loved to be around him, he always had a twinkle in his eye, loved to chat and catch up. He was a pleasure to be around as a friend."
Said former teammate Frank Mahovlich: "He was so nice to be around, it's like two personalities. Once you got on the ice, boy you didn't want to go in the corner with him. He was a tough guy to play against."
A tiger on the ice, Howe was a pussycat when it came to the love of his life, wife Colleen.
Howe never lost his love for the sport and the people who played the game. Howe was in the crowd with other hockey heroes like Wayne Gretzky and Mark Messier when Canada defeated the United States to win the gold medal at the 2010 Winter Olympics in Vancouver. He also carried the Olympic flame in the Games torch relay.
In retirement, he became one of the sport's most-loved ambassadors, although his public appearances were few in recent years as he dealt with cognitive impairment, a form of dementia. In March 2016, on the eve of his 88th birthday — and 17 months after suffering a stroke — Howe was feted at Joe Louis Arena by more than 20,000 fans who sang "Happy Birthday" as he was presented with a hockey puck cake. His legend was very much alive and always will be.
Howe held the NHL record for most goals, 801, until Gretzky broke it in 1994 en route to scoring 894. Howe is still No. 2 on the all-time goals list.
Gretzky was 10 when he met Howe at a sports banquet. The man would forever remain his idol. Howe became Gretsky's mentor and remained his friend for the rest of his life.
"To play so well and for so long is simply incredible," said Gretzky. "No player will ever do the things in hockey that Gordie did."
In an essay on the back cover of "Mr. Hockey," the Great One cedes his title. "The greatest player ever," Gretzky said of Howe.
Including regular-season and playoff games in both leagues, Howe finished his astounding career with 1,071 goals, 1,518 assists for 2,589 points in 2,421 games with the Detroit Red Wings, Houston Aeros, New England and Hartford Whalers.
Along the way, he spent 40 hours 19 minutes (2,419 minutes in all) in the penalty box.
Howe was born March 31, 1928, in Floral, Sask., the sixth of nine children of Albert and Katherine Howe.
On the day he was born, Howe's mother was chopping wood when the labor pains began. No stranger to childbirth, she put water on the stove and got into bed. After Howe was born, she cut the umbilical cord herself and waited for her husband to come home.
Howe was nine days old when the family moved into neighboring Saskatoon. His father worked as a laborer for the city. A strange twist of fate resulted in Howe acquiring his first pair of ice skates. It was 1933 and a neighbor, whose husband was sick, knocked on the Howe family's door. She had a "gunnysack full of used things" to sell so she could buy milk for her family. The Howe family didn't have much but his mother scraped together a few dollars to help out her neighbor.
"Like so many things in my life, I have my mother's kindness to thank for what came next," Howe recalled.
Out of the bag came some old clothes — and a pair of skates. Howe grabbed one boot, his sister Edna got the other. A week later, Howe got the set when he gave his sister a dime — loaned by his mother.
"I know that putting on those skates was the moment I fell in love with hockey," he wrote.Later, Howe's father would make skates for him, taking old shoes and affixing blades to the soles.
When Howe was six, a calcium deficiency in his back was diagnosed and the doctor told him he should strengthen the back by hanging from a doorway and swinging back and forth. It helped him developed powerful shoulders.
A mild case of dyslexia made reading difficult and he was often teased by elementary school classmates. As Howe grew bigger, he stuck up for himself, bloodied a few noses and earned the respect of his school mates.
In his teens, Howe worked construction with his dad during the summers and continued to develop a muscular physique. On the ice, he was a deceptively fast skater and was ambidextrous, which helped him stickhandle. He had a tryout with the New York Rangers in Winnipeg when he was 15 — it was 1943 and many players were at war, so prospects were in demand. Asked by the trainer what position he played, Howe replied "All of 'em," which was true. He had played goalie, defenseman and forward.
Howe had not been able to afford proper equipment back home, so he had to watch other players to see how to put on his gear.
The Rangers wanted Howe to attend Notre Dame in Wilcox, Sask., but he figured that was too far from home so he said no. A year later Detroit scout Fred Pinckey signed him and the Red Wings assigned him to a junior farm team in Galt, Ont., now part of Cambridge. When he showed up at age 17 at his first Red Wings training camp, he tried to fight with everything that moved, until coach Jack Adams lectured him about picking the right times to get tough.
"Thank God," said Howe. "Where would I be today if he hadn't?
"I'd never have lasted. I would have been fighting everyone. He taught me to be aggressive but controlled."
He played a year with an Omaha, Neb., farm team, getting $2,350, before moving up to the NHL at age 18 in 1946. In his first game in Montreal, Rocket Richard challenged Howe with a shove, and Howe knocked Richard out cold with one punch.
"I didn't have great expectations," he once said of his rookie season. "I was just hoping that I could last one year."
He was a hockey star at age 22 when he noticed 17-year-old Colleen Joffa in a Detroit bowling alley. They married four years later. Colleen Howe's death in March 2009 from Pick's disease, a form of dementia, was a blow that inflicted more pain on the hockey legend than any hit he took on the ice. They were devoted to each other.
"You can think you're a big, strong guy, but if something like that happens, it makes you as weak as a kitten," said Howe, who was involved in fundraising for dementia and Alzheimer's disease in his wife's honour.
Howe worked relentlessly to improve as a hockey player, often staying 30 minutes after practice to shoot pucks into the tops of the nets. By the early 1950s, the six-foot 205-pound Howe had become the first NHLer to win three consecutive scoring titles.
Howe, a humble man,was always timid about having only a Grade 8 education.
"Gordie worries about his lack of education," Colleen once said. "But I keep telling him people will accept him because of the kind of guy he is."
In the opening game of the 1950 playoffs against Toronto, Howe tried to check Teeder Kennedy, took a stick in the face and crashed into the boards. He suffered a broken nose, fractured cheekbone, badly scraped eyeball and a serious concussion.
His head was shaved and a small hole was drilled through his skull above his right ear to relieve pressure on his brain. Doctors didn't know if he'd live. His mother and sister Gladys flew in from Saskatoon to be at his bedside.
Howe emerged from hospital to attend the Stanley Cup-clinching win over the New York Rangers in the old Olympia. When the crowd began chanting, "We want Howe!" he emerged from the corridor to the dressing room with bandages covering his head and received a rousing ovation.
"Luckily, we were in a big city with a big hospital," he said years later about the skull fracture. "If we were in a small town somewhere, I would have been a goner."
The indestructible Howe won the scoring title the next season.Howe became a prolific scorer while leading Detroit to championships in 1952, 1954 and 1955.
An unselfish attitude was part of his allure. At the end of the 1952-53 season, he had 49 goals and only Richard had ever scored 50. On a breakaway with an open net in front of him, Howe passed to Alex Delvecchio, giving up a goal he could easily have scored himself.
"He was the greatest team player I ever saw," said former teammate Bob Goldham. "Even on a breakaway you would see him looking for somebody who might take a pass.
"He was just as generous with his time. When the club worked out, Howe was always the first man on the ice. He was the last man to leave."
"I've never played against anyone who does so many things so well," Bobby Hull said in 1967.
The emergence of the Montreal Canadiens and later the Maple Leafs kept Howe and the Red Wings from winning another championship. He was never much interested in the business side of hockey, and that cost him plenty.
He eventually discovered he'd been underpaid throughout his career in Detroit. He was stunned when Bob Baun, a teammate in 1969, told him he and Carl Brewer were being paid much more by the Red Wings than the US$45,000 US Howe was getting.
Howe marched into the office of owner Bruce Norris the next day and demanded his contract be renegotiated. Norris bumped him to $100,000 but a rift had been created. Howe felt he'd been cheated for years — and he was right. Howe retired from the NHL in 1971. An arthritic left wrist had been forcing him to use one hand on his stick at times.
"When Gordie came into the NHL hockey was a Canadian game," said Clarence Campbell, the league president at the time, assessing Howe's departure. "He's converted it into a North American game."
Howe filled a vice-president's role with the Red Wings for a while but was given little to do and became bored so left the organization for good. When the fledgling World Hockey Association formed in 1973, Colleen Howe helped negotiate a deal that was incredible at the time. Her husband would be paid US$1 million and sons Mark and Marty US$400,000 each in four-year contracts with the Houston Aeros.
Howe, who had an operation to improve his wrist, called it "the fulfilment of a dream" to play on the same team as his sons. He got 100 points in his comeback season, led Houston to the championship, and at age 46 was named the league's MVP. Mark, 19 at the time, was named rookie of the year.
"When we talk about the joys of my whole career, that was in Houston," Howe said. "If it wasn't for the kids, I would never have come back.
"They put fun back in the game."
During that season, Howe chased a purse-snatcher for several blocks until the thief dropped the stolen goods and Howe returned the purse to the lady.
The now-defunct WHA gained credibility with all the Howes playing. Houston won the title again in his second season. Howe was hockey's only playing team president, and he became pro hockey's only playing grandfather when Mark's wife gave birth.
"He had his own rules," Marty Howe said of his father's style of play. "You didn't make him look stupid."
"He didn't like getting hooked from behind in the ribs. If you did that, you usually got the stick or the elbow." Howe played what he liked to call "religious hockey" — better to give than receive.
In 1974, during an eight-game WHA-Soviet Union series, the Russians were dumbfounded that Howe could be such a force at his age.
"I mellowed a bit as I got older but when I was playing in the WHA against the Russians and one of them hurt (my son) Mark, I went out and played against the guy who did it," Howe recalled. "When I came out of the corner, he didn't."
A couple of years later, he kidded with a reporter: "I'm going to play another year or two but my sons are going to retire."
The family act moved to New England in 1977. Whalers coach Harry Neale recalled an incident regarding a team curfew check that reflected Howe's attitude.
Neale, respecting Howe's age and status, hadn't checked to see if Howe was in his room. Howe took Neale aside the next morning.
"If I'm on this team, I want to be treated like everybody else," said Howe. "Don't ever do that again."
When the Whalers joined the NHL in 1979, Howe stuck around for one last season. He was 52 and he was still good enough to score 15 goals. He played the entire 80-game schedule.
"He's a fantastic guy, not just as a hockey player but as a man," said teammate Dave Keon. "The guys are just overwhelmed to have him around."
The 1980 all-star game, played in Detroit, was Howe's last and Gretzky's first. Gretzky wore No. 99 throughout his career in homage to his boyhood hero.
"I have nothing left to prove," Howe said upon announcing his retirement.
Whalers coach Don Blackburn called Howe's career "the greatest sports story ever written."
John Ziegler, NHL president at the time, said this of Howe's legacy in hockey: "An assembly of everything that was ever written about him would still be insufficient to describe his achievements and contributions."
Steve Dryden, former editor of The Hockey News, wrote, "His stop-and-start career was stunning. To emerge from retirement after a fabulous NHL career (averaging more than a point a game) and then score 15 goals as a 52-year-old in the NHL defies the laws of science."
Howe returned 17 years after retirement to play a shift with the Detroit Vipers of the International Hockey League in October 1997 to gain the distinction of playing in six decades.
Away from the rink, Howe had a gentle nature. He'd pull into a service station for gas and clean his windshield, and sometimes he'd clean the windshield of the car next to his. He was happy to sign autographs for fans, had a sharp wit inherited from his mother, and liked to tease in a good-natured way. He once was asked on a TV talk show why he wore a protective cup but didn't wear a helmet to protect his head.
"You can always get somebody to do your thinking for you," he replied.
During his long career, he suffered two serious head injuries, broke a wrist, toe, fingers, ribs and collarbone. He broke his nose at least 14 times, had a hernia, surgery on both knees and took more than 300 stitches to his face. Howe didn't miss any games the year he broke the wrist. He just wore a cast and shot left-handed.
He worked briefly as director of player development in Hartford after retiring as a player. He was involved in a variety of ventures after leaving the Red Wings, including a financial interest in a ranch, co-owned a string of hockey schools, sold insurance at one time, worked for an international mail-order firm, and the family business Power Play International continued to grow.
Reflecting Colleen Howe's significant role as the business manager, the two were inducted together into the United States Hockey Hall of Fame. In June 2010, Mr. Hockey became Dr. Hockey when Howe received an honorary Doctor of Laws degree from the University of Saskatchewan in Saskatoon.
"His greater accomplishments are what he's done as a father and as a friend and as a grandfather," said daughter Cathleen in a Howe biography.
"As good as Gordie was on the ice," said Bobby Orr, "he has surpassed that off the ice as a human being."
Goodbye and be at peace Gordie. You will be so missed.
Witchy and the Genie