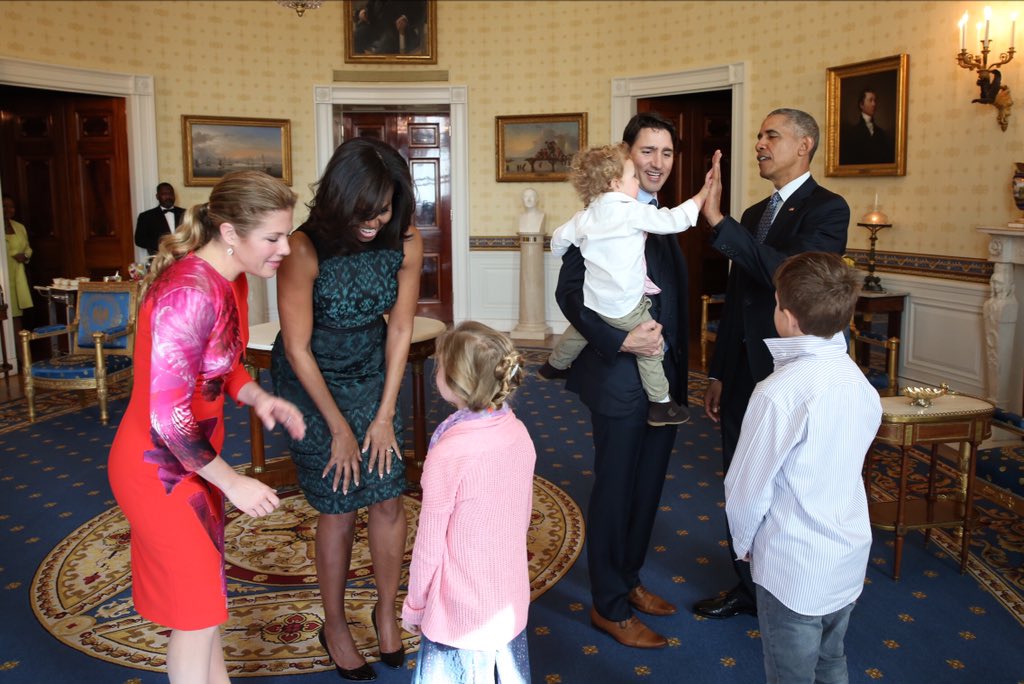 Hadrian, the youngest Trudeau was a big hit with the Obamas
Trudeau's White House visit is a high-profile embodiment of his new government's drive to put Canada back on the global stage. To achieve this, Canada needs to leapfrog forward in a manner commensurate with the world's fast-shifting contours.
We need to see new efforts in education, research, non-profits, business, investment and in our civil society. If our academics, business people and politicians all do their parts, Canada will indeed be back - and for the long haul.
In February, Trudeau fulfilled a campaign pledge by halting Canadian air strikes on ISIL rebels in Iraq and Syria. While this dented Obama's multi-nation force against the radicals, Trudeau boosted his deployment of military trainers to Iraqi Kurdistan and
decided to open the doors to 25,000 Syrian refugees, with plans for more. Conservatives liken Trudeau's overtures towards Muslims to Obama's refusal to link Islam with violence. Shabnam Assadollahi, an Iranian-Canadian rights campaigner, sees problems down the line.
"Trudeau has been called Canada's Obama for his lack of experience, socialist philosophy and tendency to circumvent parliamentary debate and elected officials. Like Obama, his tax-and-spend policies will leave future generations paying the bill," Assadollahi said.
"Trudeau's embrace of Islam and large numbers of Middle Eastern refugees is seen by many in the US as gullible and a golden opportunity for religious radicals. Only time will tell what impact these soft policies have on North American security."
Trudeau said he will not "pick a fight" with Trump, despite the billionaire's diatribes against Muslims, Mexicans and others. Rather, the Liberal leader would doubtless have more shared policy priorities with a Democrat replacing Obama in the Oval Office.
Trudeau remains impartial, but one Canadian website has sparked a flood of interest for suggesting that Americans should abandon the US and move to a Nova Scotia island if Trump wins November's ballot.
Since "Cape Breton if Donald Trump Wins" went up on February 16, the website has attracted hundreds of thousands of disillusioned American visitors and floods of emails asking about job opportunities and work visas.
In turn, Trudeau has invited the Obamas to Canada. Obama's final visit to Canada could coincide with the North American leaders summit (also called the Three Amigos) Canadians will host this summer. The leaders of the United States, Mexico and Canada will meet to further alliance and trade and cement relations among the countries of North America.
Climate Change: This is the statement we hard core environmentalists were waiting to hear
Thursday began with a joint statement on climate change that includes a new science partnership on the Arctic, part of work under the United States' chairmanship of the Arctic Council. Trudeau thanked Obama for his leadership to date on the climate change file.
"The president and I share a common goal: We want a clean growth economy that continues to provide good jobs and great opportunities for all of our citizens," Trudeau said.
But the broad range of issues mentioned in the leaders' remarks — from continental collaboration to fight the Zika virus to Obama's praise for Canada's efforts on Syrian refugees — conveyed much more common ground.
Prime Minister Trudeau and U.S. President Barack Obama have agreed to take joint steps to fight climate change, including cutting methane emissions from the oil and gas industry and protecting the Arctic. Canada and the U.S. issued a joint statement outlining those steps ahead of a meeting Thursday between the two leaders in the Oval Office on Trudeau's first full day on an official visit in Washington.
Reducing methane emissions from the oil and gas sector is a main commitment laid out in the statement, setting a goal of reducing them by 40 to 45 per cent below 2012 levels by 2025.
Environment Canada will regulate emissions from new and existing oil and gas sources, the statement said, and move "as expeditiously as possible" to implement national regulations in collaboration with the provinces and territories and other stakeholders. The department intends to publish an initial phase of proposed regulations by early 2017.
The U.S. Environmental Protection Agency (EPA) will develop regulations on the south side of the border and starting next month will start a process to require companies to provide information about their methane emissions.
"We know that by tackling methane emissions, we can continue to unlock amazing opportunity to better protect our environment for the future," Gina McCarthy, the EPA's administrator, said in a call with reporters.
Environmental groups welcomed the announcement, pointing out that methane is a more potent greenhouse gas than carbon dioxide and it will be important to control it over the next 25 years.
"About one-quarter of the climate change we're experiencing now is actually driven by emissions of methane," said Diane Regas, executive director of the Environmental Defense Fund.
She said it is very "doable" for oil and gas firms to control methane emissions and quite inexpensive, as the technology already exists.
"Most companies, we don't know how much they emit. We don't know what their targets for reductions are or how they are doing, so regulations will help on all fronts," she said.
Both countries also committed to reducing emissions from hydrofluorocarbons (HFCs), and said in their public procurement processes that they will seek to buy greener equipment and products.
Paris a 'turning point'
They also said they would continue to collaborate on emission standards for vehicles, and would work on adopting a carbon offset measure in 2016 for the aviation sector.
The two countries also intend to align the ways they assess the impact of greenhouse gas emissions caused by major projects, and co-ordinate measures to reduce those emissions. The White House said given the integrated nature of their economies, it is mutually beneficial for Canada and the U.S. to work together on GHGs. This will mark the first time the two countries will collaborate on calculating the effects of these projects on the environment.
The announcement said Obama and Trudeau consider the agreement reached in Paris a "turning point" in global efforts to combat climate change, and they will work together to implement it, committing to joining it and signing it "as soon as feasible."
Another part of the joint plan involves co-operating on clean energy. The two countries intend to collaborate on expanding wind, solar and other renewable energy sources and on clean energy research.
Officials had suggested earlier in the week that the efforts to address the effects of climate change in the Arctic would be part of the plan, and indeed Trudeau and Obama announced a new partnership to "embrace the opportunities and to confront the challenges in the changing Arctic."
Protecting the Arctic
It includes sticking to the goals of protecting at least 17 per cent of land areas and 10 per cent of marine areas by 2020, and ideally going beyond those goals, the plan said. Obama and Trudeau want to engage other Arctic nations to develop a pan-Arctic marine protection area network.
The plan also talks about building a sustainable Arctic economy, and says commercial activities will only occur when the highest safety and environmental standards are met. Shipping corridors will be developed to have as little impact as possible on the environment.
"The Arctic is a leading indicator of what the planet faces in the years and decades ahead," Sally Jewell, secretary of the interior, told reporters.
Trudeau and Obama also want a binding international agreement to prevent the opening of unregulated fisheries in the central Arctic, and Canada has offered to host talks.
When it comes to oil and gas exploration in the Arctic, the agreement says if it proceeds, it must align with science-based standards and include "robust and effective" well control and emergency response measures.
'Some progress' on softwood lumber
Environment Minister Catherine McKenna and Fisheries Minister Hunter Tootoo, the MP for Nunavut, are on the trip with Trudeau, along with Defence Minister Harjit Sajjan, Foreign Affairs Minister Stephane Dion and International Trade Minister Chrystia Freeland, who are all meeting with their Washington counterparts.
Freeland's file — the ongoing softwood lumber trade dispute — was expected to be raised at every opportunity.
White House officials said they welcomed Canada's interest but the Trans-Pacific Partnership deal was at the top of their list of trade issues.
A Canadian release said that the two sides have agreed to explore all options and report back within 100 days.
All in all not a bad visit and the Obamas enjoyed the Trudeau kids.