Michael Madison's house
East Cleveland residents watch the scene Sunday, July 21, 2013, close to where three bodies were recently found in East Cleveland, Ohio. The bodies, female, were found about 100 to 200 yards (90 to 180 meters) apart, and a 35-year-old man was arrested and is a suspect in all three deaths, though he has not yet been charged, East Cleveland Mayor Gary Norton said Saturday
Just when you thought that convicted Cleveland serial killer Anthony Sowell was an incident in Cleveland's past, his name pops up again in a search for bodies in East Cleveland. East Cleveland Mayor Gary Norton told the Associated Press Sunday that the suspect in 3 murders may have been influenced by Anthony Sowell.
To bring you up to speed, neighbors in the Shaw/Hayden avenues area in East Cleveland reported a foul odor Friday and police discovered a woman's body in a garbage bag in a garage. That led to a standoff a few hours later in Cleveland (near the City of Euclid border) on Chickasaw Avenue where convicted sex offender Michael Madison, 35, eventually surrendered.
Interviews with Madison and certain things he said brought police back to East Cleveland Saturday,
where they found two more bodies in garbage bags --- one in a backyard, the other in the basement of an abandoned home. The search continued Sunday. Sowell's bodies were also wrapped in garbage bags.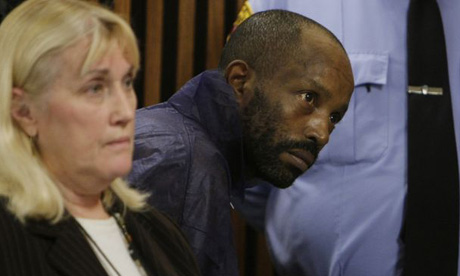 Serial killer Anthony Sowell
Copycat killer Michael Madison
Norton wasn't specific about what kind of "influence" Sowell may have had or what was referenced in the interviews. "He said some things led us to believe that in some way, shape, or form, Sowell might be an influence," Norton also told The Associated Press. Norton also said all of the bodies found were black women killed within the last 6-10 days.
On Oct. 31, 2009, Sowell was arrested after a woman escaped from his Imperial Avenue house weeks earlier and said she had been raped there. On Oct. 29-30, 2009, police found the mostly nude bodies of 11 women in garbage bags and plastic sheets throughout the home.Two bodies were found in the living room, four other women were found throughout the home, buried in a shallow grave in the basement and in crawl spaces in the house.
After digging in the backyard, investigators found three more bodies and the remains of a fourth. Police also found a human skull in a bucket inside the house, which brought the body count to 11.
Sowell, now 53, was found guilty two years ago this Monday in 2011 -- July 22, 2011 -- and sentenced to death. He is appealing his sentence, saying he didn't get a fair trial because of extensive media coverage.
They are holding Madison as a suspect in all three murders but have yet to charge Madison formally.
The body count may rise but it still baffles me that anyone would be influenced by a serial killer except another wannabe. Now who in their right mind aspires to be a serial killer? Oh yeah, they aren't in their right mind. Very sad