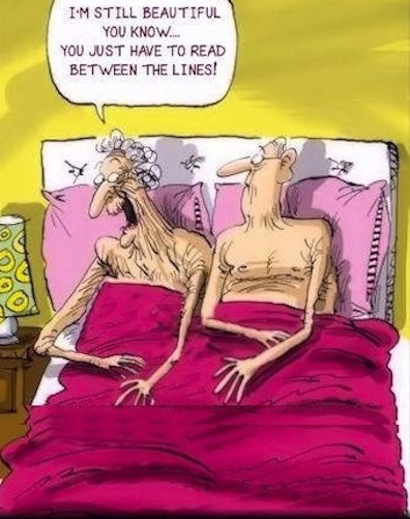 A little boy wrote to Santa," Dear Santa....please send me a baby sister."
Santa wrote back, "Okay....send me your mother."
One evening the old farmer decided to go down to the pond, as he hadn't been there for a while, and look it over. He grabbed a five gallon bucket to bring back some fruit. As he neared the pond, he heard voices shouting and laughing with glee. As he came closer he saw it was a bunch of young women skinny dipping in his pond. He made the women aware of his presence and they all went to the deep end. One of the women shouted to him, "We're not coming out until you leave!" The old man frowned, "I didn't come down here to watch you ladies swim naked or make you get out of the pond naked." Holding the bucket up he said, "I'm here to feed the alligator." Moral of the story: Old men can still think fast.
Morris returns from the doctor and tells his wife that the doctor has told him that he has only 24 hours to live. Given the prognosis, Morris asks his wife for sex. Naturally, she agrees, so they make love. About 6 hours later, the husband goes to his wife and says, "Honey, you know I now have only 18 hours to live. Could we please do it one more time?" Of course, the wife agrees, and they do it again. Later, as the man gets into bed, he looks at his watch and realizes that he now has only 8 hours left. He touches his wife's shoulder and asks, "Honey, please... just one more time before I die." She says, "Of course, Dear," and they make love for the third time. After this session, the wife rolls over and falls to sleep. Morris, however, worried about his impending, tosses and turns, until he's down to 4 more hours. He taps his wife, who rouses. "Honey, I have only 4 more hours. Do you think we could..." At this point the wife sits up and says, "Listen Morris, I have to get up in the morning... you don't."
A elderly man hasn't been feeling well, so he goes to his doctor for a complete checkup. Afterward the doctor comes out with the results. "I'm afraid I have some very bad news," the doctor says. "You're dying, and you don't have much time left." "Oh, that's terrible!" says the man. "How long have I got?" "Ten," the doctor says sadly. "Ten?" the man asks. "Ten what? Months? Weeks? What?" "Nine..."
Two senior citizens were bragging about their sex lives in the old folks' home. "Can you still do it? I have sex with my wife twice a week. How many can you do?" "Oh, I do it almost every night of the week!" "Almost every night?" "Yup! Almost Monday, Almost Tuesday, Almost Wednesday..."
Laugh!Dammit!