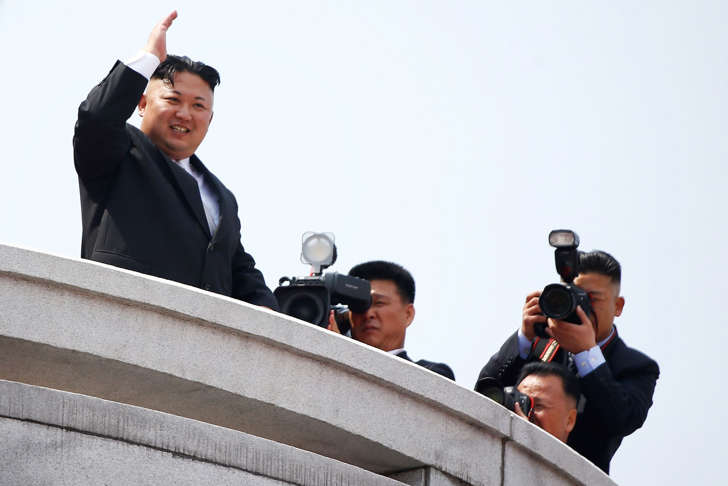 North Korea defied the demands of its neighbours and enemies, launching a missile early Sunday morning in the midst of a dangerous escalation in hostilities in northeast Asia. But "the missile blew up almost immediately," the U.S. Pacific Command said in a statement, adding that it had not yet determined what type of missile North Korea had sought to launch. South Korea's military also said the missile was believed to have failed.
The attempted test came after weeks of signals from the Donald Trump White House that it is considering a military attack to halt Pyongyang's pursuit of a long-range missile capable of delivering a nuclear bomb to the continental U.S. A U.S. aircraft carrier group is sailing toward the Korean peninsula; Mr. Trump has called it an "armada." On Friday, China's foreign minister Wang Yi warned that "one has the feeling that a conflict could break out at any moment," saying that "if a war occurs, the result is a situation in which everybody loses and there can be no winner."
But having a failed missile launch is "the best possible outcome," said Robert Kelly, an expert on northeast Asia security at Pusan National University.
"The Trump people aren't put in a position of, 'How do we respond to a missile that just flew over Japan?' "
Meanwhile, North Korean supreme leader Kim Jong-un can tell his people he has launched a missile, without needing to acknowledge its failure.
"This lets everybody off the hook. The North Koreans can posture – they did their big test – while the rest of us don't feel compelled to do anything."
U.S. Defense Secretary James Mattis, in a statement, said Mr. Trump "and his military team are aware of North Korea's most recent unsuccessful missile launch," but would have no further comment.
The test comes as U.S. Vice-President Mike Pence makes his way toward Seoul on his first trip to the region, with plans to discuss "the belligerency of North Korea," a senior U.S. official said. Mr. Pence was in Alaska, minutes from takeoff, when North Korea triggered its missile launch, the Washington Post reported.
South Korea called a meeting of its national security council hours after the test, which came a day after North Korea displayed a series of powerful missiles at a massive military parade held for the 105th birthday of Kim Il-sung, the grandfather of Kim Jong-un and founder of the Democratic People's Republic of Korea, as North Korea calls itself.
Among them was its Pukkuksong missile designed to be launched from a submarine to attack targets more than 1,000 kilometres away. It was the first time the missile had been shown in public.
The Sunday launch was conducted from Sinpo, on its east coast, where North Korea last year tested missiles that could be launched from a submarine in April, July, August and December. One launched in August flew about 500 kilometres and entered Japan's air defence identification zone before falling into the ocean.
"North Korea's government is signalling that it has a nuclear deterrent and is determined to continue improving its capability and resilience," said Michael Kovrig, senior adviser on northeast Asia for International Crisis Group, an organization whose research is dedicated to the prevention of deadly conflict.
"One more test doesn't change the strategic dynamic, but it is another incremental step for Pyongyang in technical development," Mr. Kovrig said, but is unlikely to change China's posture toward North Korea.
Beijing "will continue its recent efforts to restrict the regime's access to hard currency, for example by halting coal imports, while maintaining a basic level of economic support to the North Korean population through trade and energy supplies."
Though Pyongyang's nuclear tests have brought it condemnation from around the world, it is North Korea's missile program that is more worrisome, Prof. Kelly said. North Korea is already a nuclear nation, with a bomb more powerful than those dropped by the U.S. in the Second World War.
"The real issue now is missile-ization," he said: Can North Korea develop the guidance systems and other technology to deliver an atomic bomb over long distances?
"It's the missiles that really matter, not the nuclear tests," he said.
Mr. Trump earlier this year vowed that a North Korean nuclear intercontinental ballistic missile "won't happen," and has signalled a willingness to addressing problems with military might. Under him as commander-in-chief, U.S. forces attacked a Syrian airfield with a flurry of missiles and detonated the "mother of all bombs," an enormously powerful non-nuclear weapon, on a cave complex in Afghanistan.
But China's Global Times, a nationalist tabloid run by the Communist Party, on Friday warned that such measures might be counterproductive with North Korea, which might feel compelled to accelerate military tests rather than cower.
"Pyongyang's logic in the recent years has been that, without nuclear weapons, what happened to Saddam and Gaddafi would befall its own administration. The 'Mother of All Bombs' may once again misguide Pyongyang, leading it to believe that it is crucial to upgrade its explosives," the newspaper wrote in an editorial.
U.S. analysts, however, said Mr. Trump's military signals send the right message to North Korea, one that the President is deadly serious in blocking the advance of North Korean nuclear weapons prowess.
"It was important to demonstrate that the United States does have a muscular option, is willing to accept some risk, and is determined to do what it takes to defend the American homeland and allies in the region," said Michael Green, former senior director for Asia and special assistant to the president on the National Security Council staff, now senior vice-president for Asia at the Center for Strategic and International Studies.
That's a dramatic change from the mere imposition of economic sanctions, "which have been imposing on paper but leaky in practice," Prof. Green said.
Still, he said, "a U.S. strike is very likely not imminent," although the U.S. may in future seek to shoot down a North Korean missile.