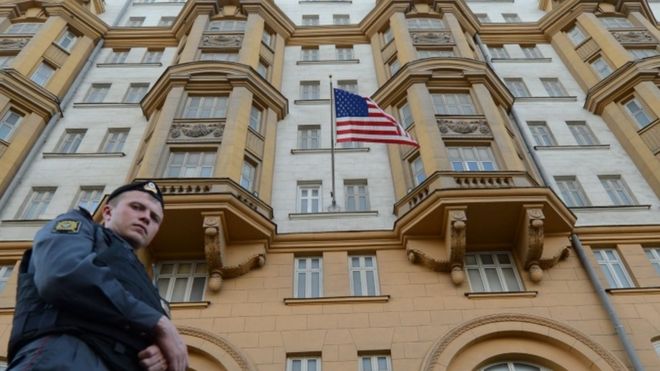 Russia's foreign ministry had formally proposed expelling US diplomats
US President-elect Donald Trump has praised Vladimir Putin after the Russian president ruled out a tit-for-tat response to the expulsion of diplomats in the upset over hacking.
Mr Trump tweeted:
"Great move on delay (by V. Putin) - I always knew he was very smart!"
Mr Putin had earlier said Russia would not stoop to "irresponsible diplomacy".
Washington expelled 35 diplomats over hacking related to the US election. Moscow denies any involvement. Mr Trump emphasized his statement on the dispute by pinning his tweet to the top of his account.
It was unclear exactly what he was referring to with the term "delay".
He has previously dismissed the hacking claims as "ridiculous" and said that
Americans should "get on with our lives
" when asked about the possibility of sanctions. However, speaking before Mr Putin's decision, Mr Trump did say he would meet US intelligence chiefs next week to be "updated on the facts of this situation".
His senior aide Kellyanne Conway said on Thursday: "Even those who are sympathetic to President Obama on most issues are saying that part of the reason he did this today was to quote 'box in' President-elect Trump.
"That would be very unfortunate if politics were the motivating factor here. We can't help but think that's often true."
The contrast between the words of the president and those of the president-elect could not be more stark. Siding with a foreign adversary instead of the sitting president is a dramatic departure from normal diplomatic practice during this transition phase.
And Donald Trump may find himself alone in his admiration. President Obama has broad bipartisan support for his actions and a full hearing to discuss the hacking allegations has been scheduled in Congress next week.
Under the US action:
Thirty-five diplomats from Russia's Washington embassy and its consulate in San Francisco were given 72 hours to leave the US with their families
Two properties
said to have been used by Russian intelligence services in New York and Maryland were closed
Sanctions were announced against nine entities and individuals including two Russian intelligence agencies, the GRU and the FSB. Companies or individuals with assets in the US had them frozen until further notice.
Barack Obama, who will be replaced by Donald Trump on the 20th of January, had vowed action against Russia amid US accusations that it directed cyber-attacks on the Democratic Party and Hillary Clinton's campaign.
Emails stolen from her campaign manager and from the servers of the Democratic National Committee - some containing potentially embarrassing information for some Democrats - were released during the election campaign.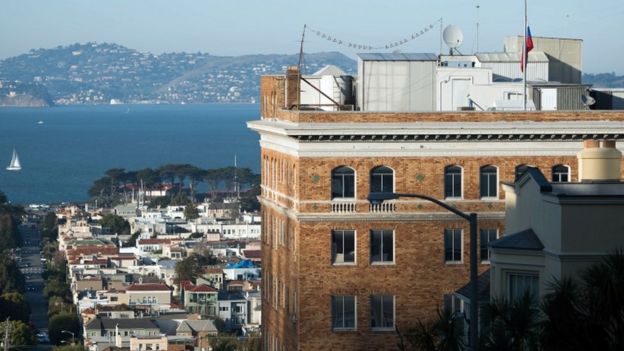 The US expelled diplomats from San Francisco and from Washington
In a
statement
on the Kremlin website (in Russian), Mr Putin said: "We won't be expelling anyone.
"We won't be banning their families and children from the places where they usually spend the New Year holidays. Furthermore, I invite all children of American diplomats accredited in Russia to the New Year and Christmas Tree in the Kremlin."
The Russian president wished Barack Obama and his family a happy New Year, as well as Mr Trump and "the whole American people".
Mr Putin's comments rebuffed his foreign ministry which had reportedly suggested expelling 31 US diplomats from Moscow and four from St Petersburg.
The ministry also suggested banning US diplomats from their dachas (holiday homes) in Serebryany Bor near Moscow and a warehouse on Moscow's Dorozhnaya Street.
There has been no response yet to Mr Putin's decision from the Obama administration.
However, Senator John McCain, chairman of the Senate Armed Services Committee, described the Russian hacking as an "act of war".
"And so we have to make sure that there is a price to pay, so that we can perhaps persuade the Russians to stop these kind of attacks on the very fundamentals of democracy."
He said a lot more needed to be done in response to the hacking, with many sanctions possible.
All of the people I have asked for an opinion responded that some sort of response to Russia was necessary to show that America was offended and a firm stance needed to be taken. Otherwise they would be opening the door to further invasion of privacy and meddling.
It is feared that Mr Trump will find a way to remove all sanctions and restore the embassies etc. That will nullify any statement, principle or point of honor Mr Obama was trying to uphold and make clear to Putin.