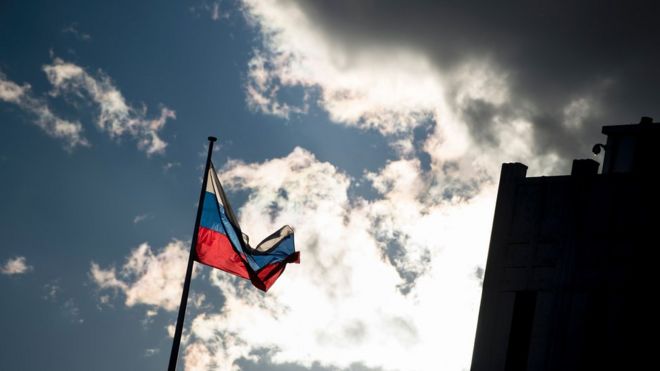 President Barack Obama had vowed action against Russia amid US accusations that it directed cyber-attacks against the Democratic Party and Hillary Clinton's campaign.
Reacting to the announcement, Kremlin spokesman Dmitry Peskov said: "Undoubtedly, commensurate reaction based on the principle of reciprocity will cause significant discomfort to the American side in the same areas."
But he added that Russia would not act "in haste" and alluded to the upcoming change at the helm of the US.
"These decisions were taken by President Obama, but Trump will become the head of state in three weeks' time," Mr Peskov said. "Of course, this factor will certainly be taken into account one way or another."
'A decade-long campaign'
Separately, the Russian embassy to the UK tweeted a visual gag calling the Obama presidency a lame duck.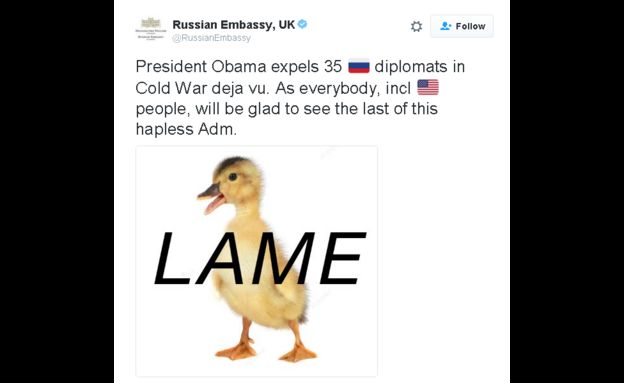 Emails stolen from Hillary Clinton's campaign manager and from the servers of the Democratic National Committee - some containing embarrassing information for Democrats - were released during the election campaign through the Wikileaks website.
US intelligence agencies, including the FBI and CIA, have concluded that the aim of the hack was to cause damage to Mrs Clinton and the Democrats and favour Mr Trump. The plan worked better than expected. Apparently people are influenced by events of the moment rather than a lifetime of service to one's country or the shady, dubious past of one who served only himself.