A FINAL LOOK AT ALEPPO AS IT APPEARS TODAY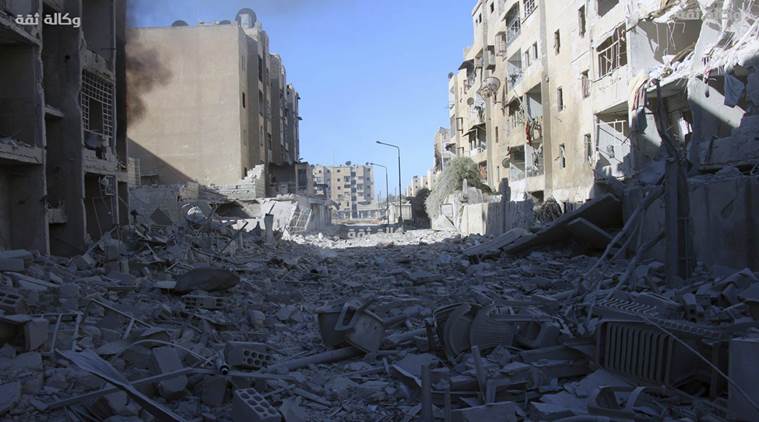 Proud, victorious army ...I wonder what they are proud of
Military action has ended in eastern Aleppo, Russia's ambassador to the UN, Vitaly Churkin, has said.He said Syrian government troops had re-established control over the last areas of the city held by rebels. He said an arrangement had been made for rebel fighters to leave. The rebels confirmed the deal, but said civilians would also be allowed to leave.
The latest developments could bring to an end more than four years of vicious fighting in which thousands have died. Reporters on the ground said there had been no bombardments or fighting in recent hours.
The rebels had been squeezed into ever smaller areas of the city in recent months in a major government offensive backed by Russian air power.
Word of the deal came as the UN reported summary killings by pro-government forces. It said it had reliable evidence that in four areas 82 civilians were killed, adding that many more may have died.
The UN and the US said the Syrian government and its allies Russia and Iran were accountable for any atrocities committed in the city.
Naturally, Russia said the allegations were untrue.
With this victory, Russia will probably crush all remaining rebel strongholds very quickly and expediently with no regard for civilians, as has been their method so far. And that will probably be the end of the war in Syria .... for good or evil.
Russia has taken advantage of the election and transition period in the USA, while the government's focus was elsewhere and capitalized on Trump's promised future withdrawal from Syria. Taking Trump at his word, Putin moved massive military forces into Syria and pressed it's advantage to it's ultimate conclusion.
You see Mr Trump, a few careless words in the wrong ear can change the destiny of countries, can destroy all hope of freedom and can cost, at the very least, 82 lives.