The opening day of Oktoberfest got off to a boisterous and joyful start today with a parade and tapping the traditional keg of beer. Kitchener-Waterloo Oktoberfest is an annual nine-day festival in the twin cities of Kitchener-Waterloo, Ontario, Canada. Based on the original German Oktoberfest, it is known as Canada's largest Bavarian Festival, and is the second-largest Oktoberfest in the world. The largest held, naturally in Bavaria. It is held every October, starting on the Friday before Canadian Thanksgiving and running until the Saturday after and attracts an average of 1,000,000 and more visitors every year.
Tapping the first beer keg is a first day tradition. This year the keg tapper was our prime minister Justin Trudeau. He and his father have often visited our Oktoberfest
Carrying a dozen beer steins is an art the servers are proud of
While its best-known draws are the beer-based celebrations, other cultural and entertainment attractions also fill the week.
The twin cities and surrounding area have a long history of German roots; Kitchener was formerly named Berlin. A large portion of the population identify themselves as being of German heritage, and many still speak German as well. A common phrase at the celebrations is
Gemütlichkeit
, German for congeniality, or warm friendliness. This word is even programmed into the bus route displays, so during Oktoberfest it will show the route and Gemütlichkeit, or Willkommen.
The festival's mascot is
Onkel Hans
, a rotund man in Bavarian dress with a thick moustache, lederhosen, and a traditional felt hat with tassel. His graphical image shows him holding a beer stein in one hand, and a sausage (in a roll) in the other. A lesser-known icon is his counterpart
Tante Frieda
, a similarly stout woman wearing a dirndl.
Another icon of the festival is Miss Oktoberfest. This position was formerly selected in a televised beauty pageant, the applicant coming from across Waterloo Region. The position is now selected by a closed committee of judges from a panel of local applicants; community involvement and personal character form the main criteria under the new system.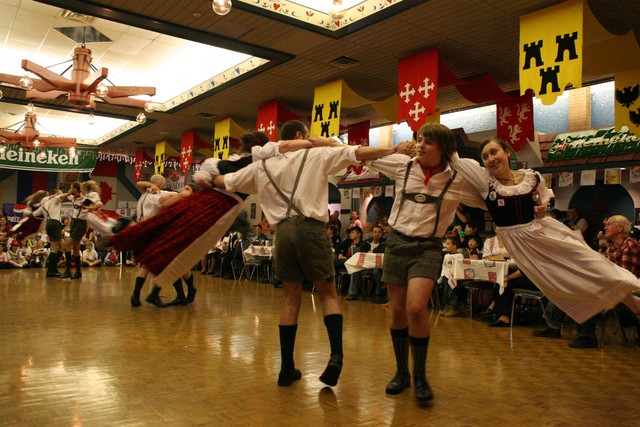 Bingemans in Kitchener always has a great show

Many celebrations in the festival take place in festhallen; these venues serve beer and traditional foods, and host traditional dancing and music, particularly waltzes and polkas. The major festhalls are operated by the German clubs based in the cities:
But most of the other major clubs and bars open outdoor and indoor festhallen . You can't walk past a pub that isn't blaring Bavarian music or has crowds singing the German drinking song "Ein Prosit" ( Prosit means 'cheers', sort of ).
Other events include:
Pancake breakfast - free breakfast for all comers, in Uptown Waterloo (Saturday)
Barrel Race - keg-rolling race in Uptown (Saturday)
Rocktoberfest - major concert featuring rock acts, as well as more traditional music; Queensmount Arena (Altes Muenchen Haus), Kitchener (Sunday)
Oktoberfest 5K Fun Run - a family oriented Turkey Trot down the parade route right before the Thanksgiving Day parade. (Monday)
Other events include outdoor concerts and dances, the Oktoberfest Gala Ball, Treasure hunts, Oktoberfeasts (all you can eat), sports, races, archery contests, fashion shows, family and children's events and many, many fairground games.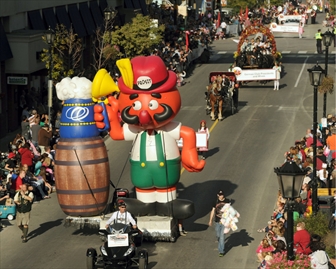 'PROSIT'!