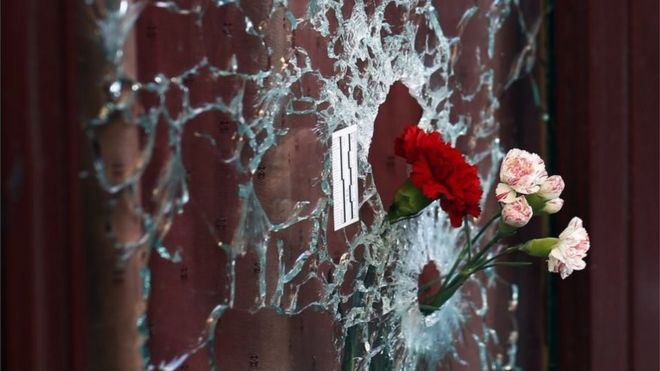 The UN Security Council has unanimously adopted a resolution to "redouble" action against Islamic State, following last week's deadly attacks in Paris.
The French-drafted document urges UN members to "take all necessary measures" in the fight against ISIS ( Islamic State of Iraq and al-Sham).
ISIS said it carried out the Paris attacks, in which 130 people died. It also claimed deadly bombings in Lebanon this month, while an ISIS-linked group said it downed a Russian passenger plane in October.
The UN resolution 2249 also condemns recent attacks in Sousse, Tunisia, and Ankara, Turkey. It came as the Belgian authorities raised the terror alert to the highest level in the capital Brussels, warning of an "imminent threat".
Some of the Paris attackers had lived in Brussels. The only survivor of the group, Salah Abdeslam, is still on the run and is thought to have gone back there.
The Belgian authorities also announced that a suspect had been charged with involvement in the attacks, bringing the number of people charged there to three.
The UN Security Council called on member states to "eradicate the safe haven" ISIS and other militant groups had established over parts of Iraq and Syria.
The document also stresses that nations should "redouble and co-ordinate their efforts to prevent and suppress terrorist attacks".
However, it does not invoke the UN's Chapter VII, which gives specific legal authorization for the use of force.
France and Russia have argued that military action is already justifiable because of the right of countries to self defence.
Rethinking strategy on ISIS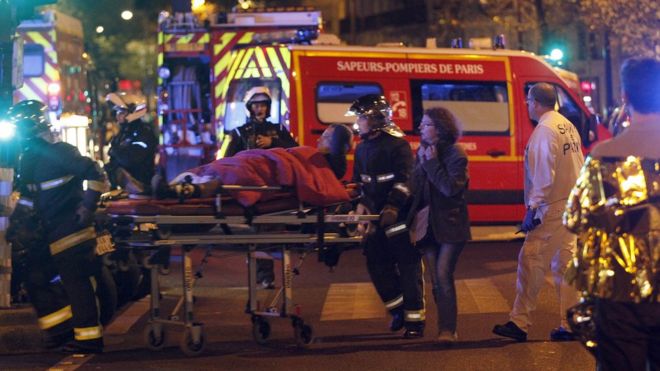 There is a sense that in some way the Paris attacks on Friday 13 November were a game-changer. But in what sense?
They have demonstrated in horrific terms that the so-called Islamic State ....
(IS or ISIS (Islamic State of Iraq and al-Sham)) group represents not just a threat to the Middle East but to western Europe too.
The battle against ISIS, far from being contained in Iraq and Syria, is now spreading well beyond its geographical origins.
So what is to be done? There are few if any new suggestions. Most proposals rely upon doing what is already being done, but more effectively or more intensively.


Intelligence drive
Much was already being done in the wake of the Charlie Hebdo attacks at the start of the year. Both France and Britain, for example, have been creating more intelligence posts.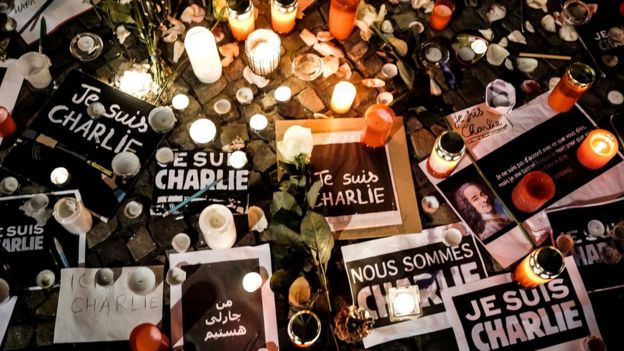 But more still may be needed. The pool of potential "targets" is large, and surveillance and monitoring a hugely labour-intensive operation.
The Paris attacks and the fact that the operation looks to have been planned in a suburb of Brussels suggest that much more needs to be done within Europe to share intelligence in a timely manner.
The US has already said it is to step up its intelligence-sharing with the French authorities.

'Degrade and destroy'
This phrase sums up the goal of the policy of the Obama administration: essentially to break down ISIS (or Isil as many Americans term it) through sustained air attacks, in the hope that over time, local anti-ISIS ground forces will be up to the task of rolling back the extremists on the ground.
But has this policy been working? Compared to other air campaigns, the resources devoted to the anti-ISIS struggle and the average number of daily sorties have been relatively low, only surging for specific battles, for example the fighting around Kobane. But this could change now.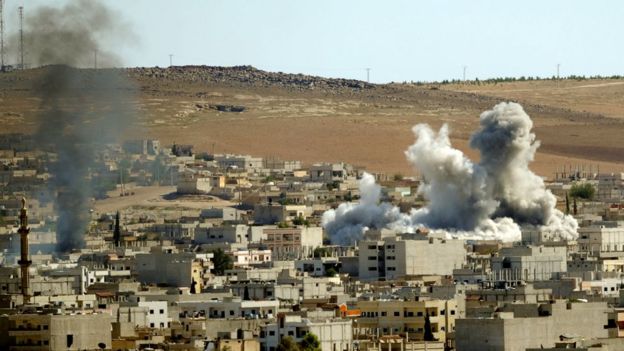 IS militants were driven out of the town of Kobane, on the Turkish border, in June
In the wake of the Paris attacks the French air force has dramatically stepped up its rate of strikes against the de facto ISIS capital, Raqqa. Operations from the French aircraft carrier, the Charles de Gaulle, in the Gulf will triple the number of French aircraft involved.
French fighters taking off. Video released by French Navy
Americans too have been operating more planes from bases like Incirlik in Turkey, much closer to potential targets in Syria, enabling the aircraft to loiter in the area for much longer. Many other sorties are actually launched from bases in the Gulf which means lengthy flights and multiple air-to-air refueling.Russia also looks set to intensify its air campaign against ISIS (which up to now has not been top of its target list) in the wake of clear evidence that the downing of the Russian airliner over Egypt was indeed caused by a bomb.
The problem is that the application of air power alone, however destructive, cannot hold and secure territory.
Boots on the ground
Air power alone cannot defeat ISIS. Territory needs to be re-captured and held. The advance by Kurdish forces and modest progress around Ramadi by the Iraqi Army are all indicators that the tide on the ground may be turning. But how permanent will these successes be?
The US is still ruling out deploying its own combat forces. The experience of the interventions in Afghanistan and Iraq is still raw. So no 'boots on the ground' so far. But the US is stepping up arms supplies to certain rebel groups and has deployed more special forces in an advisory role. Several countries are already supplying such "enabling" specialists and we may see much more of this.
Belatedly, some would say, the US has been stepping up its air strikes against the oil exporting infrastructure from which ISIS gains a considerable portion of its funds. Key installations are being hit along with the tankers and trucks that are essential to oil distribution.
Priorities
There is perhaps a moment of opportunity here. The attacks in Paris and the downing of the Russian airliner - both claimed by ISIS - mean that the major powers may be able to set aside some of their differences and cooperate in an intensified campaign against ISIS. (Though quite how Russian and Western air power might coordinate their missions is far from clear). At the very least they have a stake in pushing forward the search for a Syrian peace.
We have to remember that ISIS has billions of dollars from oil and that means they have the power to buy the most advanced weapons, train an army of hundreds of thousands and do pretty much anything they want. They also have the means to infiltrate any country in the world. And they are remorseless. So, crushing them completely is going to take a long time and a very concerted effort.
Obama and Putin discussing strategy after Paris attacks
Correction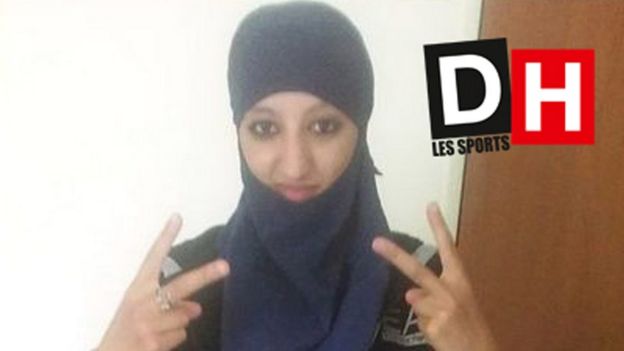 Formerly, Hasna Ait Boulahcen had been thought to have blown herself up during the raid
Earlier, French officials said the cousin of the presumed ringleader of the 13 November attacks in Paris did not blow herself up in Wednesday's police raid in Saint-Denis as previously thought.
A member of the police assault team involved in the raid said Hasna Ait Boulahcen, 26, was "trying to say she was not linked to the terrorists, that she had nothing to do with them and wanted to surrender".
But he said that due to prior intelligence, "we knew that she was trying to manipulate us".
Officials said the suicide bomber was a man, who - alongside with alleged ringleader Abdelhamid Abaaoud - was also killed.
In a separate development, French prosecutors said that a second suicide bomber from the Stade de France attack passed through Greece on his way to France.
The prosecutors had previously said one of the other attackers had come on the same route, via the Greek island of Leros. The men may have been posing as Syrian refugees.

What is Islamic State?
IS or ISIS is a notoriously violent Islamist group which controls large parts of Syria and Iraq. It has declared its territory a caliphate - a state governed in accordance with Islamic law - under its leader Abu Bakr al-Baghdadi.
What does it want?
ISIS demands allegiance from all Muslims, rejects national borders and seeks to expand its territory. It follows its own extreme version of Sunni Islam and regards non-believers as deserving of death.
How strong is IS?
IS projects a powerful image, partly through propaganda and sheer brutality, and is the world's richest insurgent group. It has about 30,000 fighters but is facing daily bombing by a US-led multi-national coalition, which has vowed to destroy it.