Kathmandu, Nepal (CNN) Half a million tents are urgently needed for the huge number of people forced from their homes by Nepal's devastating earthquake, a government minister said Wednesday, as rescue efforts continue in the stricken nation.
Minendra Rijal, Nepal's minister of information and communications, said relief operations were underway, but that much more needs to be done.
Rijal wasn't able to put a precise number on those made homeless by Saturday's devastating quake.
But he said the government had so far provided more than 4,700 tents and 22,000 tarpaulins to those in need of shelter. Aircraft loaded with tents are expected from India and Thailand in the next day, he said, with another 100,000 tents expected from Pakistan.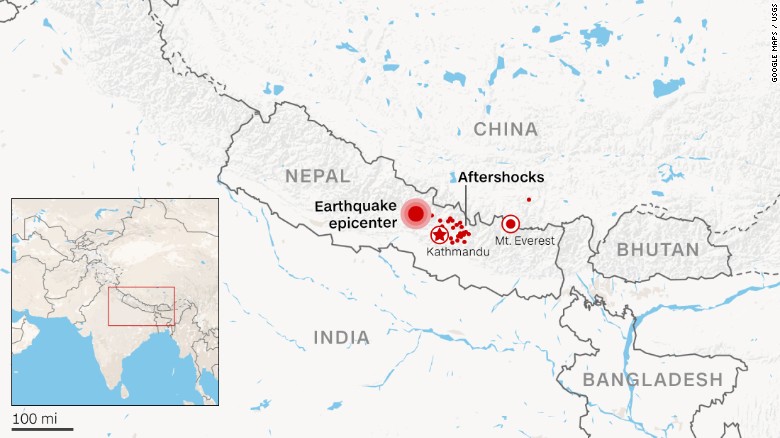 Map of Nepal earthquake epicenter and aftershock locations
The United Nations has said the quake has affected 8 million people across 39 districts, with a quarter of those in the worst affected areas.
Rijal said 21 helicopters, including seven provided by India, were helping in the rescue and relief efforts, with 866 people rescued by air and a little more than 1,000 rescued using land transport.
As rescue workers seek to reach people who desperately need help, the weather is only making things worse.
Heavy rain has intensified the hardships for the countless Nepalis who are sleeping out in the open because their homes were destroyed or they don't feel safe inside buildings amid continuing aftershocks.
People protesting the slow aid
U.N. children's agency UNICEF said Wednesday that 1.7 million children are now in urgent need of aid in the areas worst-hit by the earthquake as it launched a $50 million appeal to get help to them.
"The lives of so many children have been torn apart and they are in desperate need of life-saving support, including clean water, shelter and sanitation," said Tomoo Hozumi, the agency's Nepal representative. ( Canada is currently sending thousands of portable water filtration systems, which have the capability of purifying the foulest water to potable )
"Without a safe water supply, waterborne diseases remain huge risks for children. Many families are struggling simply to protect themselves from the sun and rain, and we only expect needs to grow in the coming days."
In the district of Gorkha, where the 7.8-magnitude quake was centered, a large storm rumbled over the mountainous terrain Tuesday afternoon.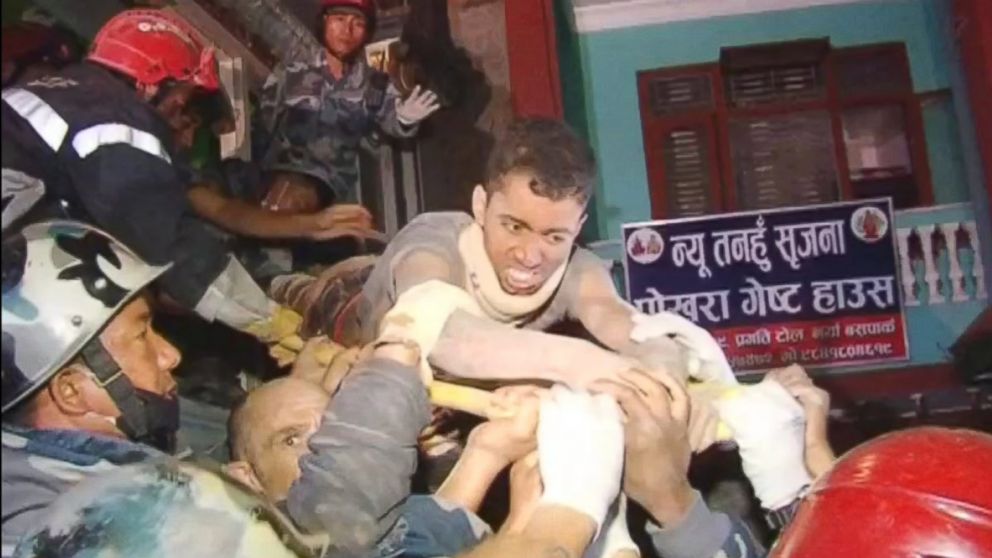 Man pulled from earthquake rubble in Nepal after 80 hours
"That essentially shut down helicopter missions for the entire afternoon, except for a small window before sunset," Matt Darvas, an emergency communications officer for the humanitarian group World Vision, told CNN on Wednesday. He's currently in the main town in Gorkha.
The canceled helicopter flights meant fewer airdrops of vital supplies to devastated villages and dashed hopes of rescues for injured people in isolated locations.
There was brighter news from the outskirts of the capital, Kathmandu, however, where rescuers pulled a man from the wreckage of a building where he had been stuck for a staggering 80 hours.



Some 5,238 people were confirmed dead as of Wednesday evening as a result of the massive earthquake, with another 10,348 injured, Nepal's National Emergency Coordination Center told CNN. Officials have warned the death toll is expected to rise.
The frequent downpours in Nepal have made it harder for emergency workers to help the injured.
CNN's Dr. Sanjay Gupta was at an army field hospital in Kathmandu when the heavens opened Tuesday.
"The rain has arrived and in many cases this is the worst-case scenario," he said. "This is what they were hoping wouldn't happen."
Pieces of tape held patches in the ceiling as water threatened to bubble in; sheets of canvas served as walls.
Gupta said it was "kind of remarkable what they've been able to do" at the makeshift hospital. Over three days, the medical staff there had treated 617 patients and saved 586 of them.
The international community has responded with every kind of aid possible, including China
At the forefront of aid are the United States, Japan, Canada the UK, Finland and Australia.
The united States has sent rescue workers, food, clothing and emergency supplies . The UK and Canada have responded with doctors and medical personnel, with Canada sending a complete mobile field hospital capable of helping at least 50,000 people. Japan was quick to send rescue personnel and disaster assessment teams who can organize rescues and cleanup. All above mentioned countries have contributed millions in funds for aid, with the USA in the lead, donating 10 million dollars.