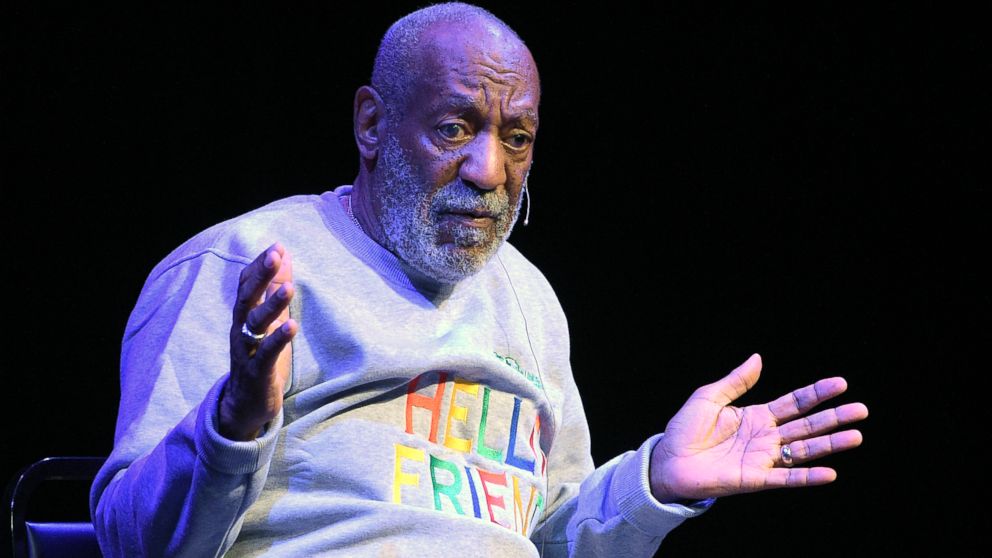 While Bill Cosby was performing stand-up routines in Kitchener, a Southern Ontario town, three more women came forward with accusations of rape and sexual abuse, bringing the total to 29. Even Oprah has claimed she had to fight Cosby off on one occasion and she intends to reveal her story publicly at a future date. Protestors braved the 22 - degree - below - freezing temperatures to picket the heavily guarded theater. But die-hard Cosby fans who want to withhold judgement until he is actually, criminally charged with something, attended the performance and applauded enthusiastically. As he performed tonight in London, another city on his short Canadian tour, the protestors had to be held back by security guards and police. Hecklers were escorted from the theater.
Over the last couple of decades, several women have reported being assaulted by Cosby but the charges were quickly swept under the rug; either settled out of court or just ignored by authorities.
The women who have kept their silence for so many years, finally feel confident enough, because of their numbers, to support each other in discrediting this man. The women have absolutely nothing to gain by their revelations except a little justice. And they are aware they will draw public condemnation and suffer extreme humiliation as their experiences come to light. Their families and friends may suffer from negative feedback also. Perhaps we should acknowledge their courage.
There is a sense of disillusionment and loss in connection with this scandal. We all welcomed the Huxtable family into our living rooms and loved and believed in the image Cosby projected. It is hard to endure the fall of an idol. To all the skeptics who denigrate the victims... what if it was your daughter or sister or even your wife ? Would that change your perspective? If you understand the epidemiology of sexual assault, you will see that everything these women claim makes sense, even the years of silence; silence caused by intimidation by a man of Cosby's celebrity and wealth, fear of public ostracization and finally, a deep sense of shame. The victims have made us take note of and talk about sexual assault. Let's keep the discussion going.
There's standing by your man. And then there's Camille Cosby.
On Monday, Bill Cosby's wife Camille appeared to do the former, as she finally spoke out to defend her husband against the women who claim they were drugged and, in some cases, sexually assaulted by him over the last several decades. In a statement, she claimed Bill Cosby – with whom she celebrated her 50th wedding anniversary this year – was "kind", "generous" and a "wonderful husband".
She added:
"A different man has been portrayed in the media over the last two months. It is the portrait of a man I do not know. It is also a portrait painted by individuals and organizations whom many in the media have given a pass. There appears to be no vetting of my husband's accusers before stories are published or aired."
I'm not sure what kind of convoluted thinking it takes to convince yourself that 29 women with very similar stories are lying or part of some huge media conspiracy, but I am sure it has something to do with being married for as long as the Cosbys have. Because believing the women who have come forward would mean admitting that most of your life had been built on quicksand.
She continued:
"The man I met, and fell in love with, and whom I continue to love, is the man you all knew through his work ... He is the man you thought you knew."
I'm sure the women who Cosby allegedly attacked thought they knew him, too. That's why they trusted him.
As easy as it is to fault Camille Cosby for defending her husband against the indefensible, there's more than a tinge of "why didn't she leave?" in those criticisms. Because if the allegations are true – and, at this point, I'm sure even the most hardened skeptic believes something is up – they mean that Camille Cosby has spent the vast majority of her life with an abuser, the emotional ramifications of which are unimaginable.
We don't know what Camille Cosby's personal life is like. And while even the most generous interpretation of "for better or worse" shouldn't include the requirement that one stick by an alleged serial abuser of women, we should summon more empathy for why Camille Cosby might defend her husband. It is difficult to believe she was not aware of something, since allegations of rape have cropped up in the past.
People do rationalize and tell themselves stories with no basis in fact, just so they can keep living their lives – even just to make it to the next day. To think ourselves immune to doing the same thing is a mistake. Is she guilty of loyalty or complicity?
It is unlikely that Cosby will be charged with anything. The lack of physical evidence and the statute of limitations on sexual assault in most states will protect him, unfair as that is. I hope, at least, these women feel vindicated and get some closure. Mr Cosby will be tried in the court of public opinion and may become an anathema to the American people.