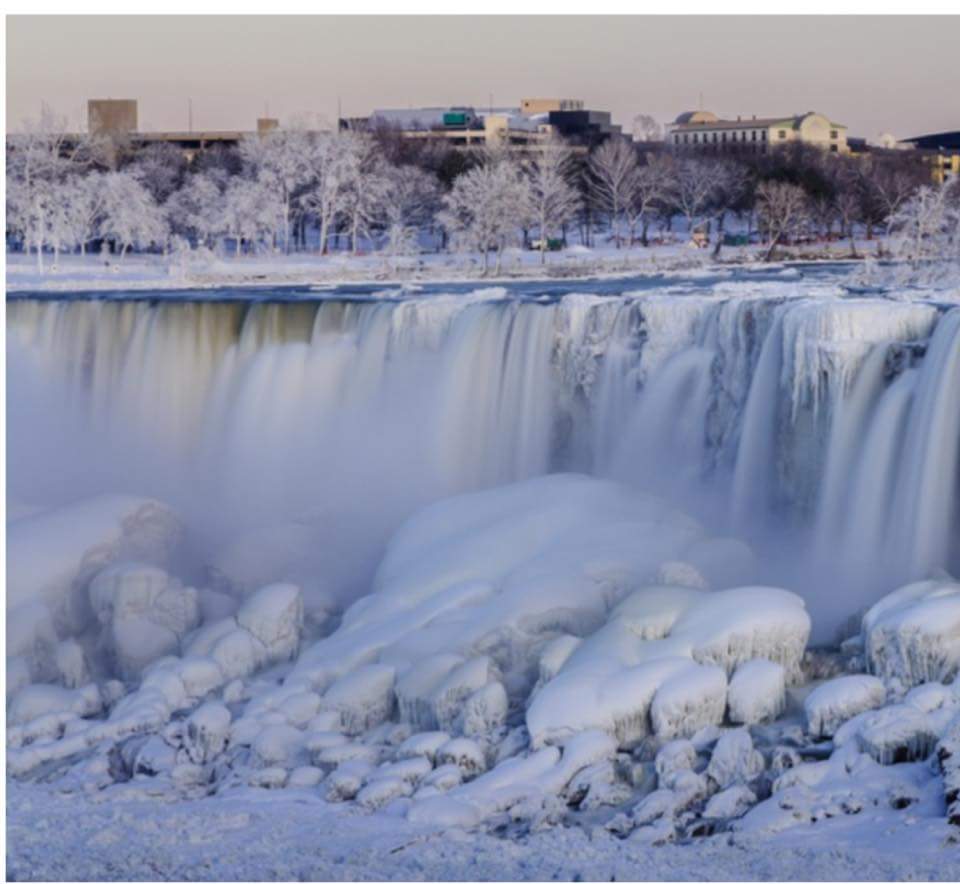 Niagara Falls today
This is how cold it got in South Carolina today
Frigid temperatures dipped so low today in Conway, South Carolina, that Tim McCoy's pool froze over. But that didn't stop McCoy from getting a little creative.McCoy sat in a lawn chair on top of his frozen pool and posed for this photo:
And if you think it has been cold this week....'you ain't seen nothing yet.' A massive "bombogenesis" -- an area of rapidly declining low pressure -- will wreak havoc on the Northeast this week, threatening hurricane-force winter wind gusts and blinding snow.
The bombogenesis will result in what's known as a "bomb cyclone." And the bomb cyclone, expected to strike Thursday, will likely dump 6 to 12 inches of snow in New England and hurl 40- to 60-mph gusts.
Storm impact to be significant in mid-Atlantic, severe in New England
In the Northeast, impact from snow and wind will increase dramatically from Wednesday night through Thursday night. AccuWeather meteorologists believe the heaviest snow and strongest winds from the storm will occur in eastern New England and part of Atlantic Canada. By the end of this week, parts of the Northeast will be colder than Mars.
At Mount Washington Observatory in New Hampshire, the temperature will plunge to minus 35 degrees Friday night into Saturday, weather observer Taylor Regan said. At last check several days ago, the high temperature on Mars was minus 2 degrees Fahrenheit. The impending storm led to more than 2,700 preemptive US flight cancellations for Thursday, according to Flightaware.com. But it's not just New England suffering winter's wrath. Freezing rain, sleet and snow are smothering parts of the Southeast on Wednesday. For some in the South, the sight of snow was a first.
Deep freeze across South Carolina
More than 13,000 tons of salt have been scattered across the state, Gov. Henry McMaster said. Steady snowfall blanketed Charleston in snow and ice, transforming a city that rarely sees snow into a winter wonderland. If Charleston gets four inches of snow on Wednesday as predicted, it would be the most in one day since 1989, meteorologist Brandon Miller said.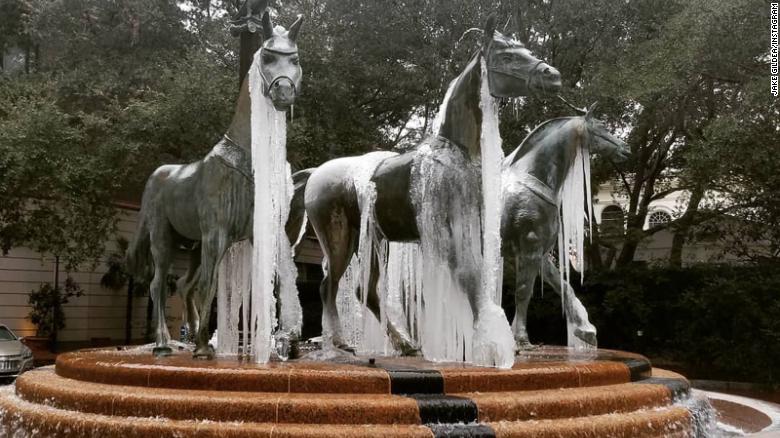 The Quadriga sculpture at Belmond Charleston Place gets a makeover.
Amid the Instagram-worthy scenes, McMaster warned of dangerous conditions as evening temperatures were expected to remain below freezing through Monday. Runways at Charleston International Airport closed and the South Carolina Highway Patrol reported dozens of accidents as snow and sleet fell. McMaster urged people to stay indoors as much as possible to minimize risk of injury.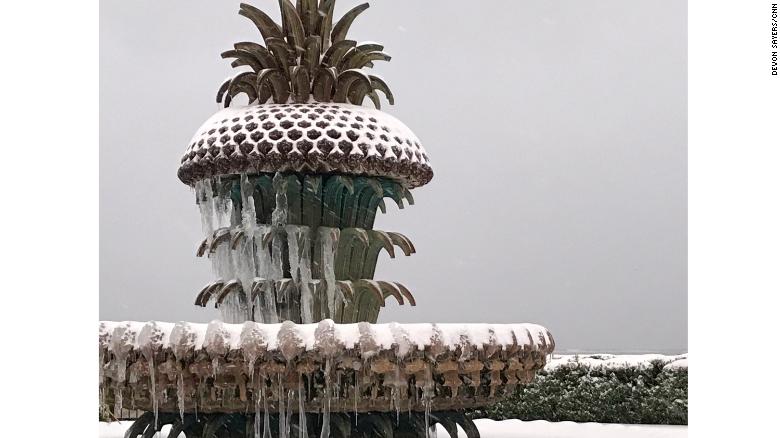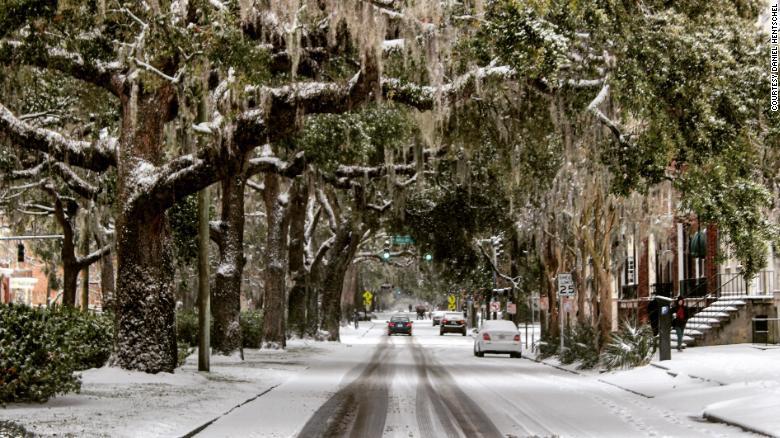 State of Emergency in Savannah Georgia
In Georgia, Gov. Nathan Deal issued a state of emergency for 28 coastal counties ahead of Wednesday's storm. Savannah/Hilton Head International Airport -- typically booming with tourists this time of year -- closed "due to severe winter weather conditions," the airport said.
The bitter conditions extended through the state.
Even Florida got walloped with snow. And now worse is expected from Maine to Florida. Every East Coast state has at least one weather advisory, winter storm watch, winter storm warning or blizzard warning. That's 1,500 miles of severe weather alerts. In Tallahassee, Florida, Ernst Beliard said he's never seen snow in his 21 years there.
New York City and Philadelphia will dip to 3 degrees this weekend, Miller said. Boston will plunge to minus 7. With 4-6 inches of snowfall expected in New York, sanitation workers are getting ready to deploy 2,200 plows to help clear the streets. That snow, combined with "exceptionally strong winds," means crews will be working in near-whiteout conditions, New York City Sanitation Commissioner Kathryn Garcia said.
New York City schools will be closed Thursday due to the impending snowstorm, Mayor Bill de Blasio said. In Connecticut, where the storm is expected to hit after midnight, Gov. Dan Malloy urged motorists to stay off the roads if possible.
In Massachusetts, snow is expected to fall at a rate of 1-2 inches per hour starting early Thursday, Gov. Charlie Baker said. About 12 inches of snow are expected in Boston, as well as the eastern and central parts of the state. The greatest concern is along the Plymouth County coast and the area from Sandwich to Dennis on Cape Cod.
Wrap up folks and stock up on essentials so you don't have to drive anywhere. This is the other extreme of 'global warming'. Essentially, all weather will increasingly become more extreme: hot will be hotter, cold will be colder, storms and hurricanes will be more violent and flooding will be far more frequent. The other end of the spectrum is that droughts will be dryer and longer and wild fires bigger and more destructive. We are seeing examples of these extremes every day now in our own country.