Retired Cpl. David Ward, an Aboriginal Canadian Army veteran, stands guard at the cenotaph in Vancouver's Victory Square Thursday.
VANCOUVER -- David Ward finished his night shift at a Vancouver security firm, donned his old khaki green Canadian Army combat jacket and braved the pouring rain all day Thursday to guard the cenotaph in Vancouver's Victory Square.
The retired corporal felt it was the least he could do to honour slain Cpl. Nathan Cirillo, the 24-year-old Canadian soldier shot to death Wednesday in Ottawa while guarding the National War Memorial.
"I'm soaked through but I'm here to honour the young corporal who was murdered yesterday and to support all my brothers and sisters serving in Canada and overseas," Ward said in the straightforward, no-nonsense style of a former military man.
His impromptu vigil was repeated by military veterans at cenotaphs all across Canada. They stood at attention for hours at war memorials in almost every town as the country came to grips with a new terrorist attack on Canadian soil. Many of the veterans were WWII, decorated heroes.
"We're not going to hide and we're not going to back down," said Ward. "Some people say you shouldn't wear your medals or make yourself known, but if they want me, they know where to find me."
"We're proud to be Canadians and proud to serve in the Canadian military," said Ward.
"This (attack in Ottawa) shouldn't have happened but now that it has, Canada has joined the real world."
Right across the country, on the opposite coast of Canada, Sgt. Roland Lawless stood vigil at the cenotaph
in Grande Parade Hailifax. He too braved the rain for many hours.
Tributes and flowers were also left at Nathan Cirillo's home in Hamilton Ontario where his dogs
peek sadly from
under the gate. Cirillo, 24, was a reservist with Argyll and Sutherland Highlanders of Canada, based in Hamilton,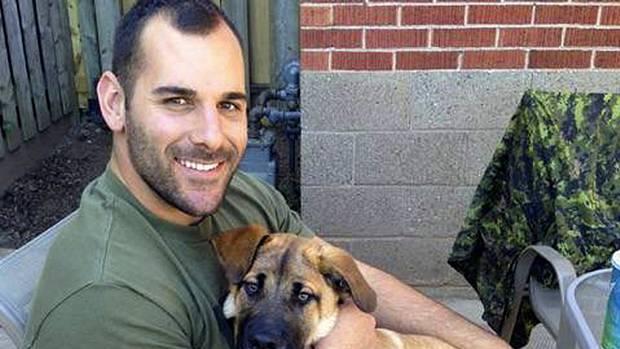 NATHAN