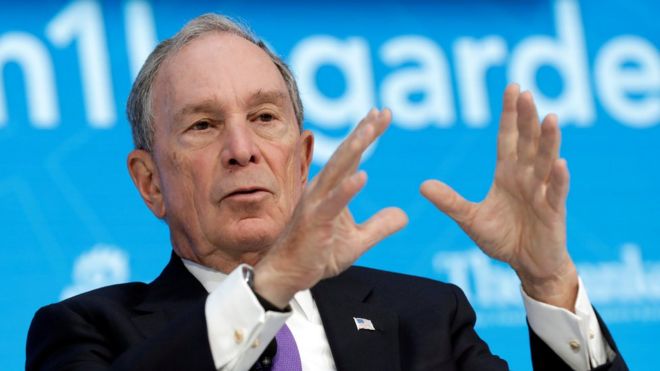 Former New York Mayor Michael Bloomberg says he will pay $4.5m to cover the lapsed US financial commitment to the Paris climate accord. He said he had a responsibility to help improve the environment because of President Donald Trump's decision to pull out of the deal. The withdrawal was announced last June and sparked international condemnation.
It will make the US in effect the only country not to be part of the Paris accord. The Paris agreement commits the US and 187 other countries to keeping rising global temperatures "well below" 2C above pre-industrial levels.
"America made a commitment and, as an American, if the government's not going to do it then we all have a responsibility to do our part," Mr Bloomberg said on CBS.
"I'm able to do it. So, yes, I'm going to send them a cheque for the monies that America had promised to the organization as though they got it from the federal government."
His charity, Bloomberg Philanthropies, offered $15m to cover a separate climate change shortfall last year. It said the money would go to the United Nations Framework Convention on Climate Change (UNFCCC).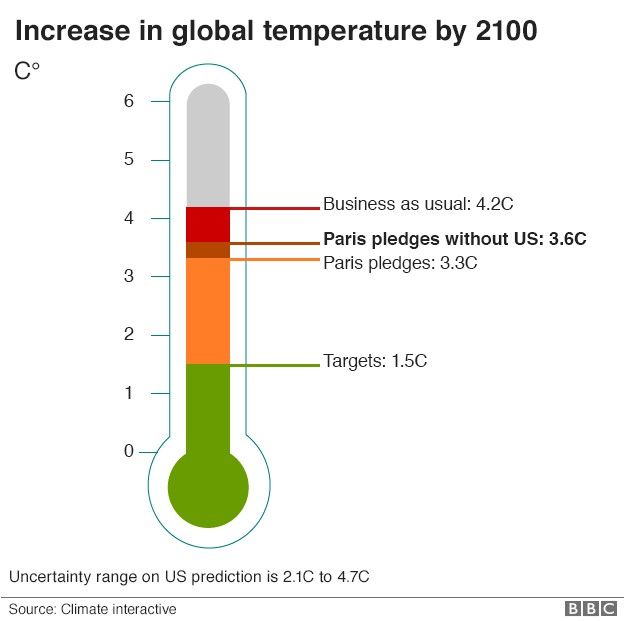 In January, President Trump said the US could "conceivably" return to the deal if it treated America more fairly.
"It's an agreement that I have no problem with but I had a problem with the agreement that they (the Obama administration) signed," he told reporters.
Mr Bloomberg said he hoped that by next year Mr Trump will have reconsidered his position on the deal.
"He's been known to change his mind, that is true," he said. "America is a big part of the solution and we should go in and help the world stop a potential disaster."
What is in the Paris climate agreement?
The deal unites all the world's nations in a single agreement on tackling climate change for the first time in history.
Coming to a consensus among nearly 200 countries on the need to cut greenhouse gas emissions is regarded by many observers as an achievement in itself and has been hailed as "historic".
As well as the limit on global temperatures, it includes a limit on the amount of greenhouse gases emitted by human activity and a requirement for rich countries to help poorer nations by providing "climate finance".
Mr Trump, your country is one of the biggest contributors to the 'greenhouse effect', so it stands to reason that you should shoulder your share of the responsibility and not expect the rest of the world to carry your burden of carbon and to try to compensate for it.
Paris agreement: Without Trump, will US cities tackle climate?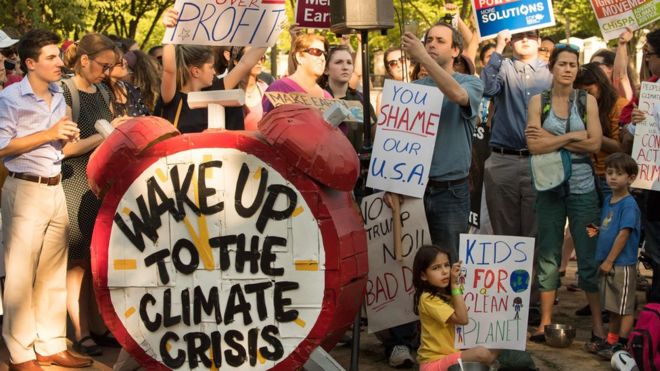 As soon as US President Donald Trump announced his withdrawal from the Paris climate change agreement, governors and mayors of places including Washington, New York and California banded together to uphold the commitments in it.

How much can they do on a local level?
There's plenty they can do - but it won't make up what's lost.
The Democratic governors of the three states say they represent 10% of US greenhouse gas emissions combined, and one in five Americans. Their United States Climate Alliance is designed to "convene US states committed to upholding the Paris Climate Agreement and taking aggressive action on climate change".
In California, legislators voted to get 100% of the state's energy needs from renewables by 2045. It followed in the footsteps of Hawaii, Portland and Salt Lake City, which have similar targets.
And mayors representing 82 cities and 39 million Americans have written an open letter pledging to increase their commitment to renewable energy and electric cars, and "adopt, honour, and uphold the commitments to the goals enshrined in the Paris Agreement".
One report suggests that if all US cities participated, they could contribute 6% of the greenhouse gas savings the world needs to stick to the target.
Under the Paris agreement, the US had agreed to:
cut its greenhouse gas emissions by 1.6 billion tonnes by 2025
contribute up to $3bn in aid to poorer countries through the Green Climate Fund
The cut in greenhouse gas emissions was part of a global effort to keep temperature rises below 1.5C (3.5F) above pre-industrial levels. If the US pulls out and other countries do not adjust their plans, that target will not be met, which would raise the risks of flooding, extreme weather including heat waves, and changes to freshwater patterns and food production.