As this story unfolds, Mr Flynn and the rest of the Trump team may want to look back and see whether this whole mess was preventable.
Forget, for now, the puzzler that Mr Flynn, who once served as director of the Defence Intelligence Agency, was seemingly unaware or unconcerned that phone conversations by the Russian ambassador to the US might be under government surveillance. Could he have just come out and admitted that he did, in fact, talk with Mr Kislyak about sanctions as part of a wide-ranging discussion of US policy priorities under soon-to-be-President Trump?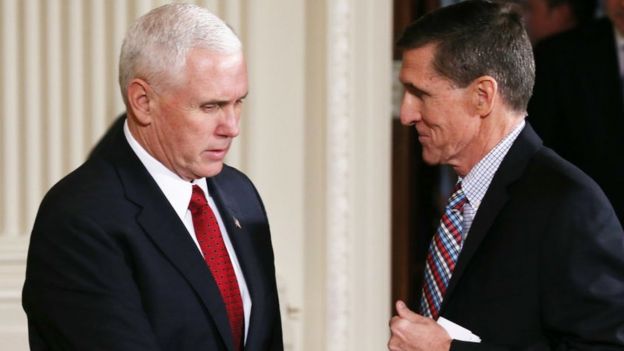 Perhaps. There certainly would have been political fallout. Democrats would have cried bloody murder, given their sensitivity to the outcome of the Clinton-Trump campaign. They would have accused Mr Flynn of undermining Mr Obama's efforts to punish Russia for its alleged meddling and, in all likelihood, questioned whether the move constituted a violation of the Logan Act.
In addition, there would have been further calls for a full investigation into Mr Trump's relations with Russia's Vladimir Putin and allegations of pre-election communications between the Republican's senior campaign officials and the Russian government.
What seemingly undid Mr Flynn, however, was that Mr Pence and other Republicans had framed their defense of the general based on his insistence that sanctions definitely were not discussed. Mr Flynn embarrassed the vice-president, who wields enormous influence in the administration.
A united White House may have been able to ride out this storm. As soon as it fractured, Mr Flynn was finished.
Who will be the next national security adviser?
Mr Flynn was one of the Mr Trump's most trusted advisers on national security, since the early days of the presidential campaign, and he will be difficult to replace.
The president has alienated much of the conservative foreign policy establishment and appears unwilling, at least so far, to consider enlisting the aid of experienced hands who actively worked against him during the campaign.
Following Mr Flynn's resignation, the White House announced that Keith Kellogg, who was serving as chief of staff of the National Security Council, would take over as acting national security advisor.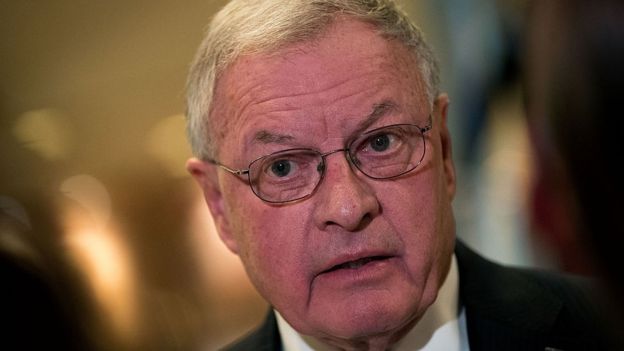 Since retiring as a general from the Army in 2003, Mr Kellogg had worked for a variety of defense contractors and advised Mr Trump on foreign policy matters during the presidential campaign.
Although Mr Kellogg will have the advantage of incumbency while the formal search is conducted, another high-profile name has already been floated for the job - former CIA Director David Petraeus.
Once considered a rising star in the Republican Party after his success organizing the 2007 US military troop "surge" in Iraq, he was forced to resign from the CIA in disgrace and charged with sharing top secret documents with a civilian reporter with whom he was having an extra-marital affair. He eventually pleaded guilty to mishandling classified information
That, it seems, has not been a career-killing event, however - even though Mr Petraeus would have to get approval from his parole officer before taking a job in Washington.
Robert Harward, a former deputy commander of US Central Command, is reportedly also under consideration.
Whomever Mr Trump selects for national security adviser will be thrust into a key role in the administration's foreign policy team under less than ideal circumstances. The job requires the ability to co-ordinate multiple intelligence and security agencies with competing interests and priorities. The NSA has to be a diplomat and a facilitator, making sure the president is kept abreast of all relevant national security developments and his policy directives are effectively implemented.
It's not a job for the faint of heart even in the best of times.
How does Sally Yates feel right now?
In late January Ms Yates, an Obama administration holdover who was serving as acting attorney general, advised the Trump administration of problems surrounding Mr Flynn's role as national security adviser.
On 30 January Ms Yates announced that she would not enforce Mr Trump's executive order barring entry to the US for individuals from seven predominantly Muslim nations, warning that she considered the action of questionable legality. She was fired by Mr Trump later that day.
Now the president's immigration order has been indefinitely suspended by multiple courts, which have said it may violate constitutional rights. And Mr Flynn is gone.
We already know the answer to this particular question, actually. Ms Yates probably feels pretty vindicated.