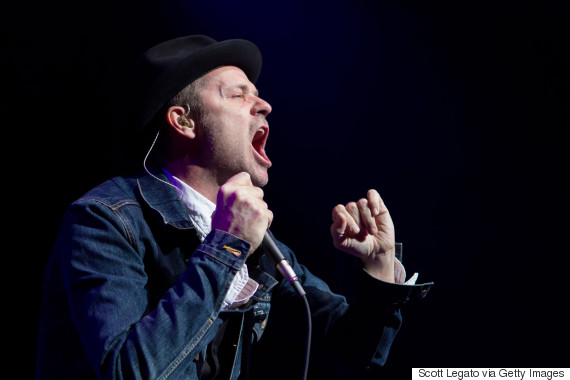 Gord Downie, the lead singer and lyricist of the iconic Canadian rock band the Tragically Hip, has terminal brain cancer, but joined his bandmates of more than 30 years for a summer tour which wraps up for a big finale tonight, Saturday August 20th in their home town of Kingston Ontario.
This will be the last performance of Gord with the band, so all Hip fans who cannot attend are advised to record the concert, which will be streamed live on CBC television and radio without commercials and will not be repeated. There are private and community Hip parties going on all over Canada as I write this. Downie was a much loved Canadian.
The band posted the news of Downie's illness on its website and the band managers released more details about it — an aggressive, incurable form of cancer called glioblastoma — at a news conference at Sunnybrook Hospital in May.


Downie was diagnosed with the disease in December and has since undergone surgery, chemotherapy and radiation.


"Since then, obviously, he's endured a lot of difficult times, and he has been fighting very hard," the band said in their letter to fans. "In private along with his family, and through all of this, we've been standing by him."
Downie, 52, and Laura Leigh Usher have four children.
Despite the diagnosis, The Hip announced it would "dig deep" and hit the road together this summer.
"This feels like the right thing to do now, for Gord, and for all of us," group members said in their statement. "What we in The Hip receive, each time we play together, is a connection; with each other; with music and it's magic; and during the shows, a special connection with all of you, our incredible fans."
"I love this country!"
The Tragically Hip's frontman has long established himself as one of the country's greatest songwriters, his lyrics giving a voice to Canada's land and its history .
"You write about what you know," he told CBC's Wendy Mesley in 2012. "And I love this country. I love my idea of this country.
"Where I go and the people I've met, underlying everything is that commitment to finding the common good."



While the band has appealed to countless fans through their sound and the stories they've told through song, Downie's singular stage presence looms large. His performance has always been characterized by his energy and his dance moves. His music has given him a chance to bear witness to that, travelling from St. John's to Attawapiskat First Nation to Vancouver since the Tragically Hip began playing the Kingston, Ont., bar scene in 1983.
Man Machine Poem
, the group's 13th studio album, was released in June. Performing for the band's legion of fans has always been one of Downie's great loves, he said.
" I Enjoy those one-night moments. We'll only be here tonight, this bunch of us in this place," he told
The Hour
in 2006. "Let's try and find some point of transcendence and leap together."
I hope he finds that moment of transcendence tonight during his last concert and public appearance. He is a poet, a composer, performer, satirist and scribe of the time we live in. He has affected the lives and attitudes of two generations of Canadians.
Feel the love Gord.